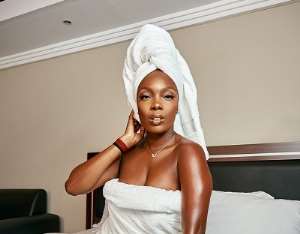 Feli Nuna, Off Da Ground signed artist, is a hot topic in Ghana right now.
On May 11, 2022, the talented singer released a new song titled "Towel," which was produced by Shawerz Ebiem, filmed and directed by R.Dee.
Saturday, 14, 2022, the singer introduced a new challenge to her song, and many Ghanaians jumped into the challenge while wearing their towels, setting social media ablaze.
In just a towel, the singer has already had interviews on GHOneTV, Joy Prime, Okay FM, and others.
In a new video shared online, celebrated personality Mama Zimbi joined the trend as she was seen in a very beautiful video wearing a white towel.
Feli Nuna's towel song is all about self-care. Self-care is defined as the ability of individuals, families, and communities to promote health, prevent disease, and maintain health by eating well and engaging in relaxing activities that can help manage stress levels.
Feli Nuna, born Felicia Nuna Akosua Tawiah, has appeared on major stages across Ghana, including the Ghana Music Awards Nominees Concert, the 4styte Music Video Awards, Coke Studio Africa, the Yaws Fashion Show in the Gambia, the Asia-Africa Youth Festival in China, and many others.