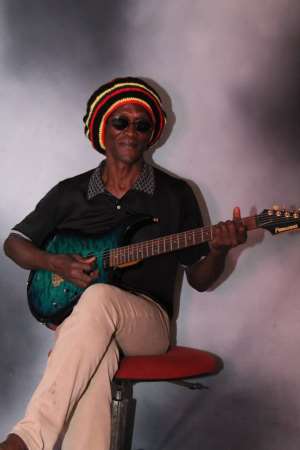 A Kumasi-based renowned reggae artiste Mr. Elvis Jackson Etuah has observed that if government is able to hoodwink the musicians in the creative arts industry into digitization process through systematic programs and workshops to become abreast with the modern trends in the music production, it will go a long way to not only boost the music industry but also would help generate revenue to the government to support the economy.
Speaking to the correspondent in reaction to the numerous challenges confronting the music industry, Jackson Etuah affectionately called Papa Jay by his sympathizers indicated that music profession is though a lucrative job, government seems to pay less attention to it.
He said whilst other institutions are flourishing and making giant strides as a result of supports and training programs they receive from the government, musicians are left out to suffer to their fate.
Papa Jay who doubles as the Chief Executive Officer of the Modern Films & Entertainment Network in Kumasi reiterated that it was against the backdrop of of the aforementioned problems encountering in the music industry, hence he is making a passionate appeal to the government for attention.
Citing instances about how the musicians in the advanced countries are making headway and contributing positively towards the developmental agenda of their economies, Etuah related that such musicians are trained and linked to modern technologies on music principles and production.
On their revenue mobilisations and payments on royalties, Papa Jay indicated that the musicians in the advanced countries have a modern technology method called "Login" a system which he stated, helps monitor and track all songs and works of musicians worldwide to avoid piracy and fraud.
The reggae star who is also a proud owner of Unity Link Foundation an entertainment non-governmental organization outfit in Kumasi reiterated that Ghana as an underdeveloped country needs time to meet this technology, insisting that to enhance archive this feat, government needs to introduce the music industry into digitization concept.
In an answer to a question, Jackson Elvis Etuah observed that though musicians formed the Ghana Music Rights Organization (GHAMRO) with a prime motive to champion a common goal for members, its focus now tends to be fruitless.
Jackson hinted that the organization is currently hits with challenges ranging from alleged internal wranglings, mismanagement among others.
He said for the past two years the organization has failed to pay annual royalties to qualified musicians making many to discard the outfit, and asked about whether this development can build an effective front in the music industry.
For Jackson Elvis Etuah, until government finds it appropriate to intervene on behalf of the musicians, the probability of the collapse of the music industry in the near future cannot be ruled out in the country.