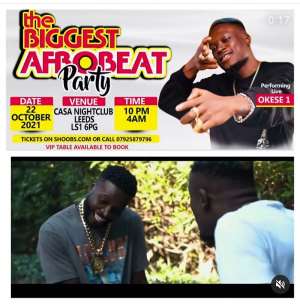 UK based Italy born Ghanaian afrobeat, afro dancehall artist and Ebony hitmaker Danny Lampo to perform at The Biggest Afrobeats Party in Leeds(Uk) with Okese1 on the 32nd of October 2021.
The event has artist like Okese1, Danny Lampo as the main guest artists on the bill.
Coronavirus has taken over the world but that has not stopped the young superstar from shining, he has been on many stages from the start of the year and still getting on many platforms.
His song Ebony was nominated in the just ended Ghana music awards Uk 2021 edition with some top artistes like Jvmme Jae, Drumz, Geo Wellington, Ghetto Boy, Gold Kay, Regge N Bollie And PandyLove.
Danny Lampo who performed on BBC Music introducing after-party in Uk just 2 days ago will be on same stage with Okese1 the "Na Today" hitmaker and after that will love France (Paris) for his Ebony Tour part 2.