Chris Attoh Killed His Wife – Prophet Cosmos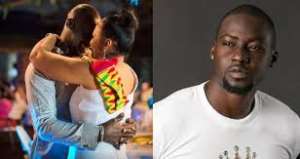 Not long ago, Chris Attoh's wife Bettie Jenifer was reported to have been shot by an unknown gunman, and many have reacted to it.
Well, Prophet Cosmos Walker Affran, the founder and leader of Cosmos Affran Ministry has indirectly reacted to the death of Chris Attoh's wife.
He said Chris Attoh must be held responsible for his wife's death.
According to him, his wife's death is as a result of Chris Attoh divorcing and marrying another lady.
Biblically, he's caused his wife's death.
He took to his Facebook page and wrote, "Beng a womanizer is not good, it can take your wife life."
Chris Attoh and Bettie Jenifer married at a ceremony in Accra October 2018. This was shortly after divorcing his first wife, Nigerian actor Damilota Adeghite with which he has 3 sons.
She was shot in the head by the gunman on Friday evening around 5pm and was pronounced dead when police arrived the scene of the crime.
---Celebrieskasa.com