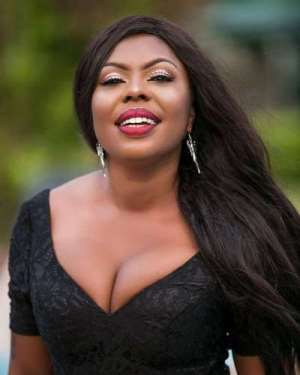 Prince Williams Darlington, Afia's Schwarzenegger's ex boyfriend has opened up about his relationship with the controversial TV and radio show host.
The ex-lover of the queen of comedy, stated in an interview that Afia was a crafty liar and that he slept with her as a result of constant harassment.
"I never wanted to sleep with her, it was out of pity and constant harassment from her and I definitely used a condom"
Speaking on Asempa FM, Prince Darlington claimed that Afia Schwarzenegger lied about the birth of her twins.
According to him, Afia's twins were born in Ashaiman a surburb of Accra in Ghana.
"Afia introduced me to her kids as their uncle even when there was nothing between us. Afia has nothing but she claims her kids were born in South Africa, Germany but they were born in Ashaiman."
He also claimed that Afia does not know the real father of her children despite the fact that they both were sexually engaged and their relationship was known by many including their families. "I'm sure she doesn't know who their father is, because there's no identity of her kid's father."
TV personality Afia Schwarzenegger has been in the news recently because of her marriage turmoil and her controversial character.
Watch full interview below;