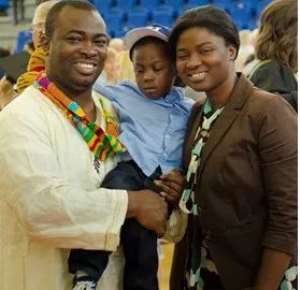 Brother-in-Law of Elizabeth Solomon (lady who recently recently drowned with her 5-year-old son, Emmanuel Akrong jnr. in a 2ft backyard pool in Brampton), Joshua Akrong have called on the Ghanaian public, media and diaspora to assiduously ignore the lies which has been told by Elizabeth's family following the death of their sister and nephew.
He says it hurts him to know that his Sisters-in-Law (Sharon and Sylvia Solomon) have adopted the strategy of feeding the media with lies instead of focusing on what has already happened. He said "there is no amount of truth that Pastor John Danquah arranged the funeral and burial ceremonies for the deceased Elizabeth Solomon and her 5year old son Emmanuel Akrong Jnr. Because the memorial service of his sister-in-law and nephew was exclusively organized by the family of Elizabeth Efua Solomon on the 19th August, 2018 which the Akrong family was duly invited to participate and they fully cooperated".
Joshua noted that the family of his sister-in-law, requested that the dates for the funeral be changed to 15th September or 7th September which his brother, Emmanuel Akrong Snr (husband of the deceased, Elizabeth Solomon), backed them yet the date could not be changed due to reasons the funeral home gave which was communicated properly to the Solomons.
Below is a copy of the Email sent by Joshua's brother, Emmanuel Akrong Snr. (husband and father of the deceased) to the family of the Solomons and Pastor John Danquah in copy.
Below is also a letter of the funeral home sent to Emmanuel Akrong Snr. (Husband and father of deceased) which informed his earlier email and was attached as well to the visa applications of the Solomon family.
And this is a copy of the letter of attendance from the funeral home attached to the visa applications of the Solomons.
Meanwhile Joshua bemoaned that, it baffles him why his sister in-laws are fabricating stories about head pastor of Grace and Truth Tabernacle Church, Pastor John Danquah because it's this same man who accommodated Elizabeth Efua Solomon in his house for a year when she first visited Canada before she even married Emmanuel Akrong Snr.
He continued that the parents and siblings of Elizabeth Solomon attended the church of Pastor John Danquah, which also served as a place of worship for Efua and her family until her passing to glory.
He advised that, they should do all they can to mourn with hope unlike the world, knowing that if one dies in Christ, she is asleep and shall resurrect again. He says his brother, Emmanuel Akrong Snr is doing everything possible with the encouragement and support of his Pastor, John Danquah and the church which provided immeasurable support to Elizabeth Solomon and Akrong ever since they moved to Canada.
He said Pastor Danquah is the one of those who was called by the mother of his late sister-in-law when Elizabeth Efua Solomon dropped their phone conversation upon purportedly seeing her boy fall into their backyard pool.
He encouraged that they read, Ephesians 4:25 which says "Wherefore putting away lying, speak every man truth with his neighbour: for we are members one of another." Because at the appropriate time the truth will come out.