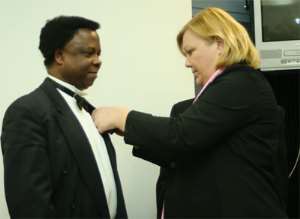 Mr. Wilberforce "Willie" Essandor, a former President of the National Union of Ghanaians Resident in Finland (now Ghana Union Finland), and a former Chairperson of the Finnish-Ghanaian Friendship Association has received a prestigious Award from the Finnish State.
The Award, Medal, First Class with Golden Cross of the Order of the White Rose of Finland was granted by the President of Finland during the last Independence Day celebration of Finland, 6th of December, 2005.
Giving the Award on behalf of the President of Finland at an impressive ceremony organized by the Finland Post Corporation for its eight recipients in the Helsinki Capital Area, Mr. Jarmo Välimaa, Director of Production in the Finland Post Corporation praised all the eight recipients and emphasised that the President granted the award based not only on their services in the Corporation but also on their versatility in different areas of expertise in the Finnish society.
On Mr. Essandor's part the Award was given in recognition of his dedication to work in the Finland Post Corporation, his contribution to the promotion of multiculturalism in workplaces through the European Union ETMO project where he was a Regional Coordinator and finally, his meritorious achievement in the academic realm while still in the services of the Corporation. Mr. Willie Essandor holds a Masters degree in International Politics and International Law from the Helsinki University. He also serves on various boards in the City of Espoo Municipal Council.
Receiving the Award, Mr. Essandor thanked the Finnish State and particularly Finland Post Corporation for recommending him to the President for such a distinguished Award. He emphasised on the importance of the Award and the honour it has brought not only to him but to the whole Ghanaian and immigrant community in Finland. By this Award Mr. Essandor has joined the exclusive family of the Finnish Knights (Ritarit) with the inscription SVR M 1 kr. The occasion was witnessed by the incumbent President of the Ghana Union Finland Mr. Samuel Anini and some Senior Staff members of the Finland Post Corporation. Mr. Anini on behalf of the Union congratulated Mr. Essandor on this great achievement.