Another 'Drug Baron' Busted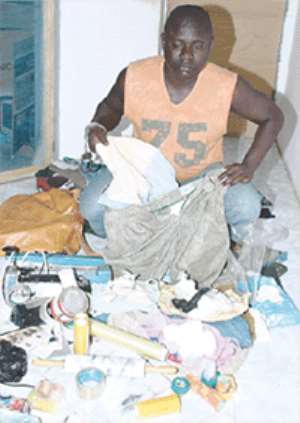 Personnel of the Narcotics Control Board (NACOB)yesterday arrested a man who allegedly packages narcotic substances for couriers to send abroad.
Kwasi Acheampong was taken unawares as narcotic officers broke into his single-room apartment at Tantra Hill Down at about 4 a.m. after he had refused to open the door after the police had requested him to do so.
About 3.5 kilogrammes of substances,believed to be cocaine and heroin, some already parcelled and lined into five different pairs of trousers,were seized.
The five pairs of trousers,three corduroys and two jeans, each had between 200 grammes and 300 grammes concealed in it and they were supposed to be picked yesterday for delivery to couriers to send abroad.
Also found were the gadgets used in the parcelling of the drugs and some chemicals purportedly used to test the quality of the drugs, as well as what Acheampong said was python oil used to smear the trousers to enable the couriers to outwit sniffer dogs.
Briefing newsmen at the scene,a source at NACOB said following intelligence reports from the board's counterparts in Europe and America that the couriers were using new modus operandi,the officials were put on alert to check the source.
It said the surveillance yielded positive results, resulting in Acheampong's arrest.Acheampong claimed he was recruited and trained by a Nigerian, whose name he gave only as Ernest, to do the packaging for him.
He claimed that the room in which he was arrested was rented for him by Ernest for ¢4.8 million. He said he had been doing business for the past four months,within which period he and his sponsor successfully sent couriers on 15 occasions to various destinations.
Acheampong claimed that Ernest paid him ¢2 million per each kilogramme he (Acheampong)successfully packaged. He said he used to sell second-hand tyres and it was during that period that he met Ernest.
He said when life became very difficult,Ernest decided to introduce him to the business and bought all the accoutrements for him.
Acheampong claimed that he did not know Ernest's place of abode,neither did he have his contact number, because Ernest usually met him at different places to collect the 'goods' and also called him using different numbers.
Acheampong is currently in custody pending further investigations.