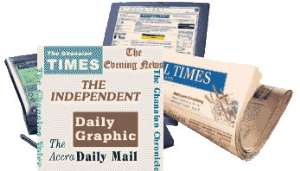 Accra, July 20, GNA - Ghanaians and Corporate Institutions have been urged not to blame the media for the high percentage of negative reportage in the country's papers and on the airwaves because they are but reflection of the feelings and thinking of the society.
Dr Messan Mawugbe, Chief Executive Officer of the Centre for Media Analysis (CMA), an Independent Corporate Media Research and Monitoring Company, asked society and corporate bodies to refrain from the blame game and find out how they could use the media to their advantage.
Dr Mawugbe, who was Speaking at the launch of International Quarterly Journal, said: "The media is not leading the society and corporate to grope in the darkness as it has always been alleged. Rather the most effective way to understand the relationship between the media and the Corporate is to observe the Corporate through the media," he said.
The Quarterly Journal is an analysis of how the Ghanaian media has been covering issues such as Pornography, the Presidency and women among other things.
Dr Mawugbe said society and corporate entities must find ways to better relate, understand and manage their identity through the media. On specific research results, the CMA said, an analysis of the President's image in 10 Ghanaian private newspapers revealed an extreme negative image of President John Agyekum Kufuor and the Presidency as a whole.
The CMA, therefore, asked the media to desist from giving the presidency a bad image since that could affect the country's investment drive.
The research on the use of local languages also advised radio stations to avoid interlacing English with the Akan language in their local talk show programmes to prevent the majority of active listeners from being confused.
A research conducted on Adom 106.3 and Peace 104.3 FM stations from May 18 to May 31 on the extent of English and Akan language usage showed that more English was spoken than Akan in their talk shows. CMA research also depicted the negative image of the Ghanaian woman in the media.
Dr Mawugbe said the Ghanaian woman was often portrayed as a sexual object.