How to View and Import MBOX Files in MS Outlook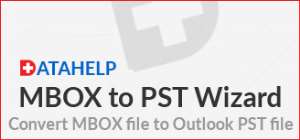 With the increasing popularity of Microsoft Outlook, migration from MBOX to PST has become one the common scenarios. On one hand, MBOX is a flexible file format and supported by various email applications, on the other hand, Outlook provides so many attractive features to its users and PST is an organized and secure way to store essential data. Apart from this, there are some more reasons that arises need of the conversion from MBOX to Microsoft Outlook format.
Reasons to Import MBOX Files to Microsoft Outlook
These are some of the reasons the conversion:
MBOX files just include email messages in order while within MS Outlook mailbox, users store emails, contacts, journals, notes, calendar events, etc.

Internet connection is not required to access previously downloaded mails and users can work offline with the help of Outlook.
How to Convert MBOX files to Outlook
Take the backup of MBOX files before begin the process of migration. Follow step after the step to complete the process accurately:
Step 1: In AppleMail:
First, convert AppleMail to MBOX:
Launch AppleMail and then click on File>>Import Mailboxes

Next, choose the program from where the data to be imported, under 'Import data from:'

Then, click on Continue button and give location where MBOX files are stored on system

Then, choose MBOX data files that you want to import followed by a click on Choose

Select desire items and click on Continue

Lastly, click on Done and browse the Import section in the mailboxes list
Step 2: In Eudora
Add MBOX file extension to the file just imported. For instance, testMBOX needs to be altered to testMBOX.mbx

Now, move this to Eudora directory. Default location of the file is
"C: Documents and Settings<user>Application Data\Qualcomm\Eudora"
Then, open Eudora and double-click on the testMBOX.mbx and close the application
Step 3: In Outlook Express:
Launch it (Outlook Express)

Go to File >>Import >>Messages

Choose Eudora from the list of email applications and then choose Next

Now, browse the location to select the '.mbx' file and click on OK

Finally, click on Next>>Next >>Finish
In Outlook Express, the imported data can be used in the Local Folders
Step 4: In MS Outlook:
Finally, transfer messages from Outlook Express into MS Outlook.
First, go to File>>Open, in MS Outlook

Now, from the available list choose Import and then Import and Export wizard

Next, choose Import Internet Mail and Addresses and click on Next

Choose Outlook Express 4.x, 5.x, 6.x or Window Mail

Make sure that the option of Import Mail is checked and click on Next.
Conclusion
To maintain the continuity of the migration from MBOX to Outlook PST is required many times. It is not easy to shift the data and there are not so many solutions available to view and import MBOX files in MS Outlook. Therefore, in the above article we have discussed a manual method to perform whole task and to move the data.