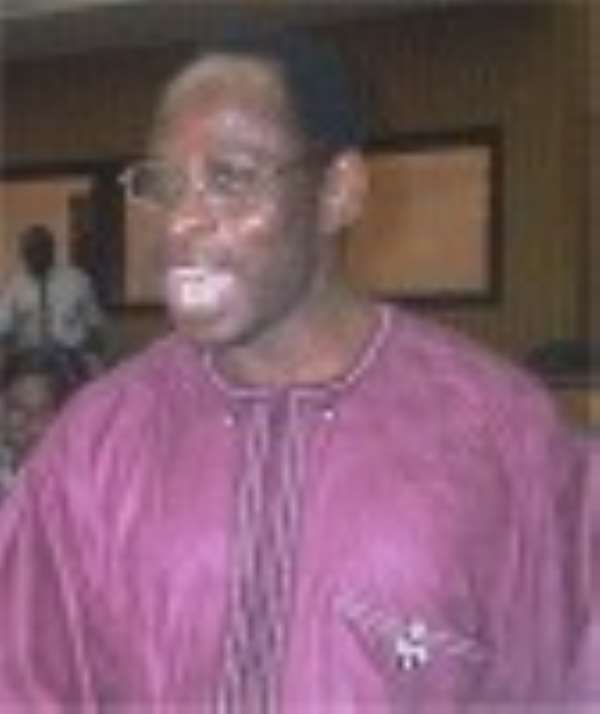 APRAKU GETS A REPRIEVE?The man from Naad (North) Carolina may yet be resurrected Political adversaries of Dr. Konadu Apraku, the Acting Minister for Regional Integration (and NEPAD) who have been enjoying the exclusion of the much ridiculed Minister's name from the divisions A and B list of the President's team, would be disappointed.
Intelligence gathered by The Chronicle suggests that, the President is yet to complete his nominations and that he may yet get a reprieve. Despite widespread reports that the portfolio of Regional Integration had been scrapped, this paper learns that, the ministry would be updated with an additional brief - that of Africa Union. EXPOSURE As to who would head the Ministry is now a toss up, with names like Dr. Konadu Apraku and Madam Hawa Yakubu, both high profile members of the New Patriotic Party (NPP) now making the rounds in informed circles. These two personalities have good exposure on ECOWAS matters and an understanding of the politics of the sub-region.
Both are currently embroiled in disputed parliamentary elections, Apraku in the middle of a court battle to save the seat he narrowly won (with barely 200 votes margin) in Offinso North, and Hawa who lost her seat in ' a coup'- she was prevented from voting at gun point and her guard shot - seeking a court declaration on the matter. SESSION Even though Hawa has gone quiet, she is still working as a Member of the ECOWAS Parliament and is currently in Kenya, chairing a session on Information Technology, since she is still the Acting Chairperson of Transport and Telecommunications Committee of the ECOWAS Parliament.
Apraku on the other hand, has been taking his job as Acting Minister of Regional Integration with renewed enthusiasm as if he had been reconfirmed. Within the past few weeks, he has been involved in a flurry of activities. Only last week, he was busily launching the Anglo-African Business and Trade Exhibition and Conference, which is scheduled to take place in the United Kingdom in the middle of the year.
His tenure at Regional Integration has been less problematic and eventful as he has been careful not to be involved in any corrupt deals as appeared to have characterized his highly controversial tenure at the Ministry of Trade.
Currently, he chairs the board of Ghana National Procurement Agency (GNPA), which is bankrupt and being hotly pursued by bailiffs. As a former lecturer in Agricultural Economics at the University of North Carolina at Chapel Hill, USA, and with exposure through United Nations programmes in countries of the former Eastern bloc, Apraku definitely has an edge over Hawa in terms of academic accomplishments though the Iron Lady dwarfs him in the area of politics. PERFORMANCE Apraku's performance in Parliament in opposition was quite distinguished, as he was an effective party spokesman on Finance and was devastated when he did not get a look-in when the portfolio of Finance Minister went to the more mature and practical Osafo Maafo.
With the abysmal record of Parliament in approving Ministers who have dubious record of corruption, it is unlikely that Apraku will falter at Bagbin's court despite the fact that he was the subject of Serious Fraud Office (SFO) Investigations.
redemption With developments in next-door Togo, the President has been too busy to complete the formation of his team, and Apraku's redemption may be a Presidential pardon away. Sources close to the President intimated that last fortnight, he, Apraku, called the house about ten times in one day. Still, others hint that he received a tongue lashing when he went to the President to check out his status after he had handed over his notes but received no job offer.
Prior to that, he had written a letter to the editor of Accra Daily Mail, complaining that his name had been left out of a list of Ministers who met the President in the last cabinet meeting, and insisted that ' the correction' be made so that it be known that he was also at that meeting.
At 48, Konadu Apraku is one of the youngest members of the NPP who is in contention for the 2008 elections to succeed the President, with Allan Kyeremanten and US-based Boakye Agyarko. Apraku has been the subject of amusement because of his funny affectation of American accent. Where he has to say 'I cannot….', Apraku is more likely to say 'I cannat…' in a nasal falsetto, a feature of his that has become a very extensive subject of scorn and joke. PROSPECT The other prospect for the position, Madam Hawa Yakubu, has also indicated her interest in seeking the presidential nomination, counting on the increasingly strong and vocal women's constituency and her immense national recognition. Hawa and Honourable Malik Yakubu are the strongest pair of NPP leading lights who are seen as the two most formidable personalities capable of making electoral contribution from the Northern regions, an area which has become the NPP's waterloo largely because of the death of the Overlord of Dagbon, Alhaji Yakubu Andani and its construed political ripples.