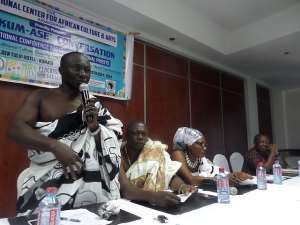 A special solidarity and congratulatory message of 'bareka de sallah' and 'afenhyiapa' has been sent to the Ghana Muslim Council and all the moslems in Ghana over their special celebration of the end of fasting and prayers time.
The message which was jointly delivered in Kumasi by Okomfopanin Nana Abass of the famous Black and White shrine at Medoma -Kumasi and Okomfopanin Nana Kwame Subun aka Nana Kudi of Kenyase Abirem, was one of the important messages made during the maiden national conference for traditional priests held at the luxurious and 5 star hotel, Golden Tulip Hotel, Kumasi-City on Tuesday, 29th July, 2014.
In the message, the two prominent traditional priests in the Ashanti region who were instrumental in the collaboration with a US based culture and development non-profit, the International Center for African Culture and Arts (ICACA) and the Centre for Human Development & Social Change, Ghana which led to the hosting of the maiden national conference for the traditional priests; they took the opportunity to congratulate the Muslim leadership and all the moslems in the country over a long period of fasting and prayers. They said that the time spent in the period of the fasting and prayers, they believe that the sacrifices made would be manifested in good works by individuals, communities and progress made in the economic challenges the country is currently facing.
They also appealed to all the traditional priests in Ghana to be tolerant of all religious groups in the country especially the Muslim religion and to try to embrace religious diversity in an effort towards ensuring quality and responsible progress in the nation's development.