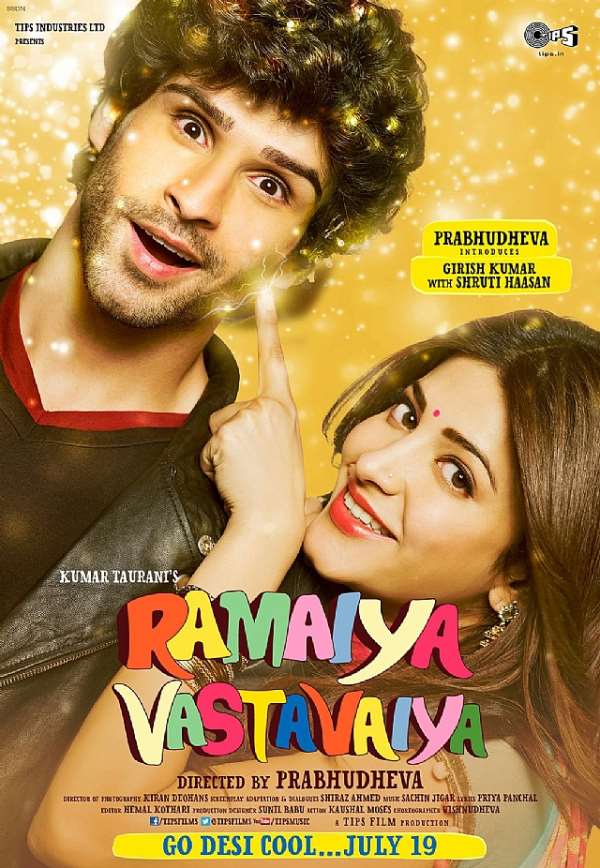 RAMAIYA VASTAVAIYA
RAMAIYA VASTAVAIYA: Love Is In The Air
Haan Bhai Haan...MAINE PYAAR KIYA (Rishi Kapoor sang something similar in Karz, 1980)
Toh Phir...PYAAR KIYA TOH DARNA KYA (Madhubala sang in Mughal E Azam, 1960)
Lekin...RAMAIYA VASTAVAIYA (Raj Kapoor sang in Shree 420, 1955)
Isi Liye Toh...PAPA KEHTE HAIN (Aamir Khan sang in Qayamat Se Qayamat Tak, 1988)
And rest as they say, is history. Two hit movies were made (1989, 1998 respectively) on first two legendary songs with identical titles. Could third be far behind? Director Prabhu Deva was inspired enough by MPK to make it in Telugu as Nuvvostanante Nenoddantana (2005). It turned out to be a blockbuster. He carried it forward with its Hindi remake Ramaiya Vastavaiya (Ram, When Will You Come?, 2013).
A qaidi Raghuveer (Sonu Sood) is to be released the next day after serving seven long years. The jailer (Shiraz Ahmed) wishes to know the story behind his jail migration. Cut to flash back: The viewer is transported to Sonu's childhood. A single mom with two young children, humiliated and rejected by hubby dear, dies. Raghu takes the responsibility of bringing up younger sister Sona (Shruti Hassan). Station master Shrikant Bhargav (Vinod Khanna) unofficially adopts the two. Villainous zamindar Govind Namdeo along with his son (Sarfaraz Khan) eye Raghu's land and sister respectively. Sona's school friend Ria (Anchal Singh) is about to be married and invites Sona. Ria's dad Ramakant (Satish Shah) has a domineering sister Ashwini (Poonam Dhillon) settled in Australia with a hen-pecked billionaire husband Siddhant (Randhir Kapoor) and son Ram (Girish Taurani). Ma beta fly down for wedding and the son is fida over Sona. Ramakant's business partner Jayprakash (Nassar, grrrr) wants to chipkao his daughter Dolly (Pankhuri Awasthi) to Ram. There is a clash of class a la MPK which ends in PKTDK.
What!!! Still waiting to read further. Well, kahani khatam, paisa hazam. We all've seen it earlier. But it goes to the credit of Prabhu Deva, who has given the story a fresh treatment with eye-soothing cinematography. Girish lends it a fresh, young and innocent flavor. For a debutant, he shows a lot of verve. He is not camera-conscious but acts in his own way. He is a mix of Saif Ali Khan and Shammi Kapoor (I hesitate to add Kangana Ranaut). Taurani dances like daurani (racing). Forget the Jumping Jack, here comes an all-in-one, who not only races, jumps, somersaults but can give a heart attack to Prabhu (Deva!). Watch out for Shruti Hassan (Sarika Thakur and Kamal Hassan's daughter). She can look forward to her Bollywood innings from now on with an awesome performance in D-DAY too. Girish and Shruti form a terrific pairing. The movie may not be a 'masterpiece' but somewhere it touches the heart. Cinematography complements the movie. And the icing on the cake is songs. Atif Aslam has excelled himself. Jeene Laga Hoon will break all the romantic records. The picturization too is beautiful. Atif proves talent transcends boundaries. His Bairiya and Rang Jo Lagyo complete the album. Holi songs and 'R' have given us two hit movies this year - Re (poetic liberty) Jawani Hai Deewani and Ranjhana. Ramaiya Vastavaiya is the hat-trick movie with a holi song and of course the magical 'R'. We do need a fairy tale to (en)counter the roti-dhoti 'masterpieces' that serve no purpose except the elite. Prabhu Deva ki toh nikal padi. This is indeed the year of south Indians in Bollywood.
There are a few characters, who are an unwanted addition to the movie. Hero's friend Bijli (Paresh Ganatra) walks though the role of an idiot tailor-made for him. Portly and ageing Zakir Hussain hardly looks credible teasing a young heroine. Nassar is so obvious an appendage that one wishes to shout at him to remove his unwanted presence. (If only wishes were horses...) That item number Jadoo Ki Jhappi (Prabhu with Jacqueline Fernandez) is totally unrequired. But at the end of the movie one remembers the lead pair along with bade bhaiya Sonu, who carries Salman's Dabangg mooch image here. Salman may not have any release this year but look at the number of movies, where he is being cloned or worshipped by lesser known 'heroes'.
Last but not the least, you may question me about adding 'Papa Kehte Hain' earlier and what is its connection here. So, don't jump to conclusions. Pichchur abhi baaki hai, mere dost. You can wait for a sequel aptly titled PKH (bada naam karega), which papa Kumar Taurani may already be planning as son Girish is finding favorable word of mouth. Forget hat-trick. This calls for a tetra-trick.
Ghar mein sote ho. Office mein jaagte-rote ho. Ab theatre mein naachte raho.
Pop...Popcorn...GO!