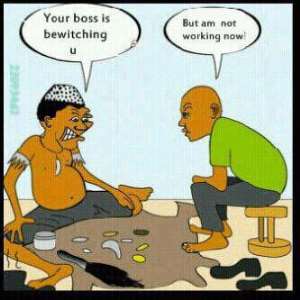 A US based powerful minister of God, Pastor predicted the end of the world for last year November and nothing happened. What did the world do to him? NOTHING! Many christian and other religious leaders have made THEIR own predictions which never came to pass. In the US, there are many spiritual schools and institutions of higher learning which are simply schools for educating people who wants scholarship into spirituality. The Ghanaian spiritualist, SPIRITUS might have received one of higer education in the US.There are many top Psychics on top US national televisions with large followers. They make predictions and readings live on air and not all come to pass. Nobody condemns what they do but in GHana, it is not the case. WHY? Keep reading:
Are you overwhelmed by so many radio talk shows about SPIRITUALITY these days with a lot of scary titles: WIASE y3 hU, SUNSUM MU OHU, ETUO MUO SUM, ..........ETC in Ghana? Well the reality of our Ghanaian religious/cultural experience would never die because we love God and as we always say it "the world is dark". Yes, these programs are part of the research and community efforts to create awareness of a particular topic of interests to most Ghanaians. For those of us with interests in History, Anthropology, Ethnic Studies, Ethnomusicology, Multicultural Studies, Adapted Ethnoanthopology etc, those programs enrich our research experience. This Note is posted in response to an INTERESTING QTN POSTED ON THIS PAGE BY Our Dear scholar, Ama Oforiwaa, whose photo showed a spiritualist doing a reading and his predictions being challenged by the devotee..............So far the only response came from one Emmanuel, whose response is the motivation for this NOTE:
here you go with the reply and our response:
Emmanuel Nii Baani Bruce: I HAVE NEVER BELIEVED IT EVEN THOUGH MY GRANDMUM IS ONE.
15 hours ago via mobile · Unlike · 3
Prekese Ghanamedia Emmanuel Nii Baani Bruce .....study it for comparative study purposes.....inbox me ya grandmom's number........every religion has its downside..Is Traditional Religion bad?......Do your own research and dont buy into the Western propaganda ok.......Ghanaians will always be RELIGIOUS BUT we need more info on other religions to UNDERSTAND God properly...........TO ANSWER THIS QTN: Consultations and Predictions all over the world sometimes do not yield accurate results for many reasons: 1. Readings are like PERSPECTIVES, each Spiritual Reader tells his/her audience what they receive from the energies they work with.......In some churches, they call the energies Ab)fo ( Angels) and some of them have different names, in the Roman Catholic Church, what we in Africa call them ancestors become SAINTS.......ie. St. Patrick( The US celebrated an Irish Day called St. Patrick Day),all Saints are people who have lived and served the church or the communities........( More filla later)....and among the Malams, some of them work with Jinys aka dwarfs..as well as use the Koran verses to compliment their works....Within the fetish priesthood, every community has its deities, this is why in some communities, pp refer to their community deities ...ie.....Antoa-Nyama not Antoa Nyame..Larteh-Akonnedi....Techiman Kompa Adepa etc.........U GETTING EXCITED....RIGHT? watch out for me and my professors' book: GOD IS EVERYWHERE...............coming soon.....U HAVE ACCESS TO YOUTUBE.....check out the ANDREW YOUNG'S UNIVERSITY project on Dancers of Ashanti Akom in Ghana.................Yes, the West is now studying our religious in which we have the natural healers.........Even the most powerful pastor in Africa, TB Joshua sometimes do not get his predictions come to pass..............if it does, we will not understand the mystery about NYAME...................