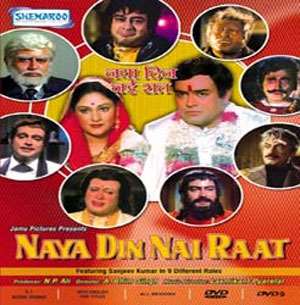 Makeup can do wonders for anyone, who needs a makeover. Bolly heroines won't be recognised without makeup. (you bet.) Wigs, face makeup, clothing and fat/slim body can make a huge difference to one's personality especially heroes and heroines.
While wigs and clothes make a hero turn into a heroine and vice versa, it is makeup alone that makes experimenting with looks possible. It can really make a man look half his age, turn him into a child, or even a tiger. A fat man slimming down can be advantageous to get married and settle down with the most beautiful girl in town.
It was said, heroines alone need tons of makeup. Interestingly, it is Bollywood heroes that are taking quick recourse to makeup. There are no guesses, without makeup even these heroes would be hard to recognise. It is better to see them with the cake coating or die of horror shock.
Today's heroes not only cover their ages to look half their ages, they also experiment with their looks with makeup. This has truly revolutionised the makeup industry and makeup men have thus become important. Makeup can also change looks if there is a double or triple roles in the same movie.
Mickey Contractor, Ravi Dada are some of the famous makeup artist, who change an ugly duckling to a swan. Stephen Dupuis who did Robin William`s make up in Mrs.Doubtfire was roped in for Amitabh Bachchan's plageria child role in Paa.
Barry R Koper, Karthik and Michael Westmore were the makeup artists, who transformed Kamal Hassan in Chachi 420. The credit for these movies succeeding should actually go to these makeup artists. Kamal can easily claim to be the makeup wonder boy of India.
These makeup men have changed the way our heroes look and the world sits up and takes notice. Not only the roles are immortalized, the heroes write new histories and careers flourish.
Naya Din Nayi Raat (1974): This was the first time in Hindi movies any actor has enacted nine roles in a single movie with élan. Sanjeev Kumar excelled in each role. Each look was as different as chalk and cheese. His nine looks (widower, lout, psychiatrist, bandit, priest/smuggler, leper, transvestite, hunter and Sanjeev himself) were talk of the town especially the leper.
Junoon (1992): The hero Rahul Roy is badly wounded by a cursed tiger, who dies. The spirit of the tiger possesses Rahul and he turns into a tiger on every full moon. The evil spirit never lets him rest in peace. He becomes obsessed with the heroine that leads to his death. The movie was loosely based on An American Werewolf In London (1981). The makeup tiger was more attractive than Rahul.
Chachi 420 (1998): Well, this was the movie that actually made viewers sit up and marvel at makeup. Makeup wizard Michael Westmore transformed Kamal from the hero to an aunty! The movie based on Mrs Doubtfire (1993) lauded the power of makeup to make or mar the actors. Makeup was here to stay.
Aunty No 1 (1998): Govinda in one of those brainless comedies that actually raised hackles. It was a painful watch for a comedy. Govinda could turn into a muscular queen and aunty to two grown up boys and romanced by two buddhas. This is too much by any standards. But then the clothes, wig and makeup did transform him into a hijra. Not a nice thing to say but makeup sometimes can work the other way too.
Jhooth Bole Kauwa Kaate (1998): A takeoff on Chupke Chupke (1976), Anil Kapoor turns from a hero to an aunty to win over Juhi Chawla's hand. Not the best of movies from Hrishikesh Mukherjee, it had its own moments of fun. It was a delight to watch Anil in an aunty getup. Makeup ruled roost.
Badhai Ho Badhai (2002): It was a remake of Tamil movie Poove Unakkaga (1996) and the plot was inspired by The Nutty Professor (1996). An obese (fat) Anil falls for Kirti Reddy. And there begins his exercise to turn slim. Anil was truly a revelation as an over fat body. It will truly remain etched in memory.
Krrish (2006): Hrithik Roshan in a superhero role was superb. What was equally superb was his father's look. His transformation into a superhero was amazing. What was amazing was the excellent makeup of father in a developmentally disable role. There is of course no parallel to makeup for sure.
Dashavatar (2009): Kamal Hassan again never fails to amaze us. He gives competition to Sanjeev Kumar and for the first time in world cinema, portrayed ten distinct characters. The shooting for the roles lasted for up to 3 years, with some roles taking up to 6 hours to apply make-up for. The final song in the film, Ulaga Nayagan shows how Haasan wore these synthetic make-up.
Paa (2009): Amitabh Bahchchan in the role of a progeria-afflicted 13-year-old boy was marvellous. Neither he nor Abhishek Bachchan were the heroes. The real hero was the makeup man Stephen Dupuis, who enacted the eighth wonder of the world. Makeup is powerful. See this movie to feel the power.
3 Idiots (2009): Don't know whether liposuction or age-defying creams did the trick. Certainly makeup did turn Aamir Khan into a college going student from a middle aged man (45) that he is. Truly AMAZING. If only he could name the products, they will sell like hot cakes. There is no dearth of men and women trying age defying ointments. And one used and recommended by Aamir should shoot through roof. What say, Aamir!