Here Comes Obama The Black Magic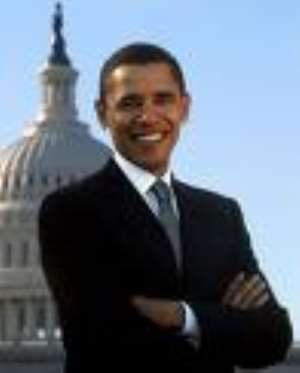 Our era has witnessed many defining moments of world history including the election of the first-ever black person as an American President. This makes the man the most researched and most talked about personality of our time.
There is nothing about him that is not known. Nevertheless, perspectives do differ and more ink and paper will continue to be invested in the subject.
Our children's children will learn from history books that the 44th President of the United States had a Kenyan Luo father who went to study in America where he married a white woman of Scottish and Cherokee descent.
They would understand that Obama's skin coloration did not link his ancestry to the dehumanising trade started in the 17th Century when a ship loaded with African slaves landed at Annapolis to be followed by a mass evacuation of Africa for over 200 years.
They would learn that Obama did not fit a character called Topsy portrayed in Harriet Beecher Stowe's Uncle Tom's Cabin who was convinced that he did not come into the world through parents.
Topsy believed that he just "growed" out of nothing. They would conclude also that Obama was no Chicken George, a showy freed slave of Alex Harley's epic novel, Roots. Obama is a different kettle of fish.
If our grandchildren are interested in knowing more about the man, they will read the two best-sellers written by him. In the first book titled Dreams from My Father, the author searches for his identity as a black person and finds it.
The second book, The Audacity of Hope, portrays him as a skinny man who firmly believes and talks often about redeeming politics from everything negative in American national life.
They would see how sceptics thought he sounded quixotic and they wondered aloud, "You seem to be such a nice guy. Why do you want to go into something dirty and nasty like politics?"
They would learn that his response that Americans should pool those values they identify themselves with and use them to tackle problems instead of only sitting around and bemoaning their fate so captivated the imagination of America that they termed his message "The Black Magic".
So who do we have as a guest from July 10 to 11? We have a black American President with six Kenyan brothers and sisters from different mothers, and one Indonesian sister; a good orator who can speak an Indonesian dialect and a few words of Swahili. He is truly a United Nation personified.
Obama has worked in poor communities to identify himself with them. He has visited Kenya and is irritated by the African habit whereby no-gooders sponge, as if of right, on people considered well-to-do, a practice typified by cousins dropping in without giving notice.
We have a guest who believes that international aid organisations encourage dependence and poverty in the Third World. He minces no words when he tells blacks to improve themselves. He is a man who through book learning, work and travel prepared himself for leadership.
It is not difficult to guess his attitude to aid to Africa, especially during a time when he has so much to fix on the American economy. For sure, he is not going to be more liberal than his predecessors.
He is going to insist that those aid initiatives and projects started under President W. B. Bush such as the Millennium Challenge Account (MCA) and the malarial fund be executed efficiently with accountability as the hallmark.
He will certainly remind us that we have not taken full advantage of the opportunities created by AGOA.
Obama does not suffer greedy people kindly and like W. B. Bush, he is not going "to tolerate corrupt leaders who chop the people's money".
He will not be impressed by our boast that we have found oil and gas in commercial quantities and more so, that we are a property-owning democracy.
It would be a veiled way of telling him that we are capable of doing those negative things that have landed some Third World nations into under-development and the Advanced World into the current financial crisis.
According to comments attributed to Nicholas Sarkozy of France, Obama's peers regard him as highly intelligent. When he comes, he expects to engage our leaders in highly constructive discussions.
He will see any sob story for what it is. He is not coming with a hat brimming over with goodies for a well-behaved partner.
Security is likely to feature highly on the agenda.
Luckily, the al-Qaeda has not featured in our national security concerns but who knows if they have not already incubated cells at sensitive places?
What is clear is that Ghana has become a much-valued hub for the illicit drug trade. The trade routes converge from Latin America and the Far East on Ghana. Obama will want America and Ghana to fight off this menace as active partners.
America will supply the logistics and trust that Ghana will show much commitment in the fight. He will not be disappointed. For all our bungling of certain other partnership projects, we have chalked up stunning successes in the last six months in dealing with the drug barons. Ghana will not cheer herself and relapse into complacency.
There are other outstanding issues of security that have to do with an American plan to set up a military base in Africa. Ghanaians cringed at the idea and ex-President Bush, in seeking to allay our fears, did say that "it might be a sort of office to co-ordinate security activities".
What form this office will take should be very high on the agenda of discussions.
Quite apart from the image boost Ghana gains from exposure to the world's top media networks, the opportunity to showcase our tourist potentials is a big bonus of the Obama visit. Are we ready to exploit them? Let us be modest about our capacity.
Not all applications for accreditation to cover the visit should be granted. We must be selective. We get no stars allowing ourselves to be overwhelmed by sheer numbers. All we shall earn is extreme bad mouthing about how we organise our lives.
We suffered this epithet during the AU Conference, Ghana 2008 and during the [email protected] celebrations when the atmosphere was butubutu and the media did not have the opportunity to cover the events they came to report on.
Ghanaians should be of their best behaviour on time-keeping. Invited guests should not expect Obama and our President to wait for them at functions.
We saw footage of the G20 Conference in London and receptions held for ex-President Kufuor at Buckingham Palace, Guildhall and at Chatham House. Each occasion was orderly, achieved thorough planning and several hours of rehearsals.
Would you believe that at one point during the preparations for the grand dinner at the Buckingham Palace, the Queen came down to supervise personally the kitchen staff! Let us not out-source services to contractors and believe that they will deliver to standards.
They should also be involved in the rehearsals. We must clean our streets and free them of muggers. Tourists must feel free to enjoy their night life. They are averse to insecurity and filth.
They are equally annoyed by poorly trained stewards who will accost a visitor with "what do you want," instead of "may I help you?" The tourist will be very eager to taste our culture and durbars of chiefs come in handy here.
We must however understand that repetitive displays produce déjà vu and boredom. By all means, let us hold durbars but the tourist would soon get fed up with long lines of chiefs bedecked in fake gold ornaments.
Tumultuous drumming and dancing, long handshakes and long speeches can be boring. The tourist wants variety.
The castles on the coast where slaves were shipped off to America really stab the conscience of the slave traders and arouse the anger of the slave descendants.
For this visit, we should not over-play the slavery card. Obama is no descendant of a slave. His visit to those castles should only enlighten him on the indignity endured by the grandparents of a large population of his constituents who bear his skin colour.
The committees tasked with planning the visit must not put too much on Obama's plate. He needs some relaxation. In a recent interview with BBC he was asked what he did to relax himself.
He replied that he occupied himself with the family, read novels and played the occasional golf or basketball.
He has barely 48 hours in Ghana. We should tempt him with a good novel written by a Ghanaian which will lull him to sleep on his first night. His amiable consort, Michelle, should be made to visit the maternity ward at Korle-Bu and the Osu Children's Home.
Any visit to the upper class (dada mba) schools such as Ghana International School and the French School should be avoided. She learns nothing visiting schools that can rival top American Schools.
What is the magic about the man? It is simply this: With self-belief and the slogan, "Yes. We can" he has put a firm foot in the door of possibilities for those who challenge themselves to hope and act.
People, for example, now ask how soon, and not if, a black man with the right message would become the Prime Minister of Britain.
Nearer home, it may no longer amount to sacrilege to predict the end of the sunny days of chieftaincy. Yes, the magic is here in our midst!