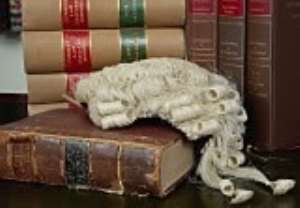 The District magistrate's court at Akatsi, presided over by Mr Daniel Dorkpoh, has remanded four persons in prison custody in connection with the death of a woman, Abla Afornorpe, aged 50, at Dzodze Fiagbedu in the Ketu South District.
The suspects are Michael Adorvlo, a teacher; Moses Atitso Adorvlo, a farmer; Ali Kwasi Ahiablame, a farmer and Korshiwor Ahamah, also a farmer.
They were charged on two counts of conspiracy to commit crime, contrary to Section 23(1) of Act 29/60 and Section 46 of Act 29/60. Their pleas were not taken.
Prosecuting, Chief Inspector of Police, Mr A. K. Avorgbedor of the Dzodze Police Station said at about 5.10 a. m. on February 5, 2009, the deceased reported an assault case against the four persons that they had beaten her severely for allegedly stealing a fowl.

He said although the deceased denied the accusation, the suspects were not convinced and became more infuriated and subjected her to more brutal assaults.
Chief Inspector Avorgbedor said the accused persons alleged that they saw the fowl hidden on the body of the deceased which necessitated more assaults on her.

He said at the time of the incident, the husband of the deceased was not at home, so she called him on a cell phone to inform him about the ordeal she had gone through, and pleaded with him to come and convey her to the hospital.
The prosecutor said on arrival, the deceased's husband rushed her to the police station with a swollen neck and face, lodged a complaint and was issued with a police medical form, and thereafter sent to the St. Anthony's Hospital at Dzodze for treatment.
Mr Avorgbedor said the deceased was referred to the Volta Regional Hospital in Ho, as her condition got critical and died at midnight on February 7, 2009.
Subsequently, the four suspects were ".arrested and after preliminary investigations, they were charged with the offences and arraigned.
The court ordered the police to expedite action on the case and reappear with the suspects on March 11, 2009.