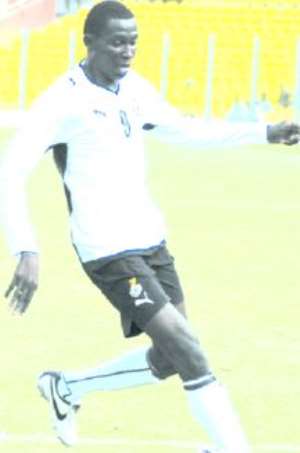 Three years after meeting in a high tempo Under-17 African Championship final, Ghana's Black Starlets and their Gambian counterparts meet again this weekend in yet another explosive encounter.
When they met in Banjul it was for the right to be the Under-17 champions of Africa, and guided by one of Ghana's own distinguished technical brains, Fred Osam Duodu, the Gambians edged the Starlets out with a controversial 1-0 victory in that final to be crowned African champions.
On Sunday, when they meet at the Baba Yara Stadium in Kumasi, the stakes will be more than deciding who rules Africa — it will be the first of two games to decide which side will be at the competition to be staged in Algeria next year.
Youth football in The Gambia has seen a steady rise up the ladder, but this year they have already suffered a jolt at the hands of Ghana's Under-20 side, the Black Satellites, who earned a back-to-back victory in their last African Youth Championship qualifier last month.
And on Sunday, the Starlets are hoping to inflict a double agony on the Gambians with yet another victory, even though they dismiss their mission as one of revenge.
Ghana's coachhene, E.K Afranie, who has an enviable successful record with youth football, told Graphic Sports that the stakes were totally different, and their mission would be to seek the ticket to Algeria and avenge the loss their predecessors suffered.
"The stakes are not the same. In that match it was to decide the champions; in this encounter it is to decide who gets the chance to fight to be champions. So that can not be revenge. Ours is to win and we are ready for the challenge the Gambians are likely to pose.
"Having lost the Under-20 ticket to Ghana, the Gambians will definitely be coming out strongly against us. They will do whatever they can to win, but I also have a reputation to guard, so we will not be playing any entertaining football. The plan will be to go for a big win.
When we are satisfied with the result, then, maybe, they will entertain with their skills," Coach Afranie told the Graphic Sports.
He said the team was raring to go and have been psyched up for action, taking motivation from the achievement of the Satellites over their Gambian counterparts.
"Ghana football is currently enjoying a lot of successes at the international level. We will not be the ones to dampen that spirit of good feeling. We are aware of the enormous task and we are prepared to fight. Nothing comes easy and we will fight for the ticket to Algeria next year.
"We don't know much about this current Gambian Under-17 side, but we saw their Under-20 side against the Satellites, so we have a clue. We have a game plan to overcome whatever they will be throwing at us," Coach Afranie explained.
With the likes of Aaron Amoah, Kwame Nsor and Mahatma Otoo spearheading the attack, the Starlets definitely will be expected to romp in the goals in this first leg to allay any anxieties that the return leg in Banjul in two weeks is likely to raise.
Preview by Rosalind Amoh