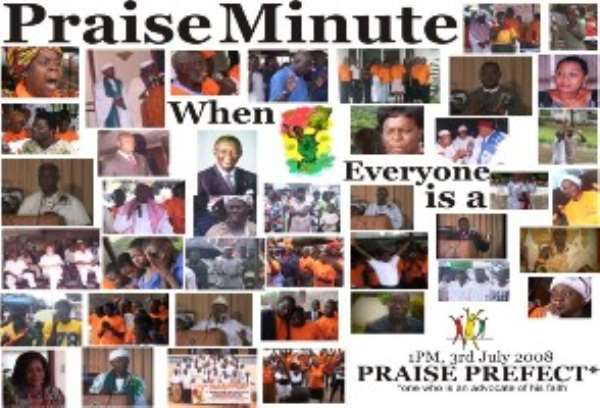 THIS IS THE PICTURES FROM PRAISE MINUTE 2007
The Praise Minute Movement is emboldened in its enterprise by what we believe and know from numerous Biblical references to praise and excerpts such as Zechariah 8:18 to end. Because ours is a national venture, we trust that others will also share teachings on praise and kindness as their faith prescribes and know without a doubt that CHARITY, PRAISE and KINDNESS are cherished principles of all faiths.
The unique format of Praise Minute (wherever you are and with whoever you want to be or, alone) allows
· An opportunity for everyone to feel a sense of unity knowing that millions of like faiths are joined in intent.
· The satisfaction of knowing that we all, individually or collectively, stand in the gap for each other, worldwide, in an awesome moment of acknowledgment of our Maker. (A whole nation cannot be assembled anywhere else but in its country for purposes of communal endeavors).
· An occasion which does not necessitate yet another public holiday and yet affords us all a welcome occasion to a pause awhile from anxiety and stress to consider the better moments and circumstances of our lives for which we count ourselves blessed.
In a fragile world that grows increasingly violent, we are coming together as a nation to enact and participate in a national demonstration of peace, and to establish a platform for hope and a unique opportunity for evangelism so that, people from all walks of life can be effective and powerful vehicles for peace and the establishment of community wellbeing.
We invite every Ghanaian to promote the universal human values shared by all religious traditions by uniting the human community for a time of national meditation, Praise Minute Movement seeks to aid in the development of the inner qualities and external conditions needed for the creation of a more peaceful, just and sustainable national society. Recognizing the laudable efforts of a growing number of individuals and organizations who bring hope and assistance to the under privileged, we are working to turn those blessings into reasons for praise and motivation to help ourselves knowing we are enabled beyond our imagination and with an expectation that belief in the Almighty affords us. Our mission is to harness the power of the wonderful Ghanaian embrace of all things God-centered by initiating events that direct a sense of gratitude and hope inward, upward and outward thus generating a united intent on counting our blessings.
The pending elections, which necessarily take place in an atmosphere of heightened emotions, are all good reasons why events such as ours are important.
Preparation and awareness towards the event facilitates dialogue on matters of faith without compromising the principles of our own individual faiths.
Thank You and God Bless You.