The Beautiful Ohene Djan Stadium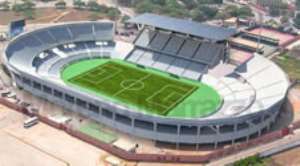 President J.A. Kufuor last Sunday commissioned the renovated Ohene Djan Sports Stadium in Accra.
The sitting capacity of the over 50-year-old new-look stadium has been increased from 20,000 to 40,000. There are now cafes, restaurants, private boxes and other facilities at the stadium.
It is hoped that the commissioning would mark the beginning of the country's finest moment in its football history and the country would take advantage of it to put itself prominently on the world football map.
The stadium is one of the two stadia renovated in Accra and Kumasi, with two others being constructed at Sekondi and Tamale to host the 26th edition of the African Nations Football in January, next year.
The stadia would for a long time stand as monuments of determination and commitment to raise the standard of football not only in Ghana, but also on the entire African Continent. Indeed, it would give the NPP Administration yet another plus.
Ghanaians owe the Confederation of African Football (CAF) a huge debt of gratitude for the financial assistance it had given the Ghana Football Association (GFA) in the renovation and construction of the stadia.
The success stories of the renovation and construction of the four stadia would not be complete without the mention of Messrs Michelleti and other construction firms which undertook the projects and executed them even ahead of schedule.
The onus is now on Ghanaians to adopt the culture of maintenance for the stadia and all other such facilities in the country. It would be a national disgrace if such a beautiful edifice is left to rot after the continental football tournament.
From all indications it would not be long when some African countries would send representatives to Accra, Kumasi, Sekondi and Tamale to look at those facilities so they could also build themselves similar facilities in future.
The image of Ghana would sink to the lowest ebb if such delegations arrive in the country to find the stadia in very deplorable conditions. That day, Ghanaians would bow down their heads in shame, but we hope that day would never come.
However, all is not rosy about the stadium. For instance, there are some minor problems with the fixing of lights at the stadium.
That problem did not help photographers to take sharp pictures, as the lights reflected on their cameras.
It would be necessary, therefore, to relocate the lights to enable easy photograph-taking as is done at all modern stadia throughout the world.
There is enough time from now to the day of the opening of the games. Those minor changes could be effected if the authorities are prepared to do so.
We must remind the authorities that it is one thing providing beautiful infrastructure and another winning the games.
DAILY GUIDE therefore advises GFA to commit itself to winning the tournament and winning it well.