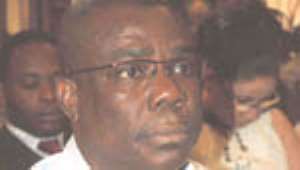 •Avoid Media War
NATIONAL Chairman of the New Patriotic Party (NPP), Mr. Peter Mac Manu has warned members of the party to use internal mechanisms to resolve disputes instead of trading insults on radio and in newspapers.
He said such tendencies could damage the party in future, and therefore called on NPP members to stay united in order to retain power in 2008.
Mr. Mac Manu cited an instance where a District Chief Executive (DCE) and a party member traded insults on radio and reminded members of the party to guard against making divisive utterances.
The Chairman gave the warning at Elmina in the Komenda- Edina-Eguafo-Abirem (KEEA) District of the Central Region last Friday where NPP organized a two-day operation 2008 strategic workshop, attended by some selected constituency, regional and National Executives of the party. The workshop was on the theme, "Consolidating Our Gains".
Mr. Mac Manu expressed concern about the way members of the opposition National Democratic Congress (NDC) were threatening not to accept defeat should the NPP win the 2008 elections, on account of the Representation of the People's Amendment Law (ROPAL).
According to him, the implementation of ROPAL would depend on the Electoral Commission (EC).
He added that the EC had not even submitted draft constitutional instrument on how the law would be implemented in Parliament for approval.
Mr Manu cited Mexico which passed a similar law but took nine years to implement it.
He cautioned the security agencies not to sit down for the NDC to cause anarchy and chaos in the country.
The NPP National Chairman pledged the National Executive would do everything possible to sustain their polling station executives, since the party's successes depended on them.
He commended Central Region for giving the NPP 'sweet victory' in 2004 and urged them to continue to work hard to help the party retain power.
The General Secretary of the party, Nana Ohene Ntow advised Members of Parliament (MP) who had differences in opinion with their District Chief Executives (DCEs) to settle such differences amicably.
He said it was NPP's mission to retain the party's 16 seats in the region and also capture the remaining three.
The National Organizer, Mr Lord Commey pointed out that before the 2004 elections, a similar workshop was organised for members of the party, and this was a pointer to the seriousness of NPP as a political party.