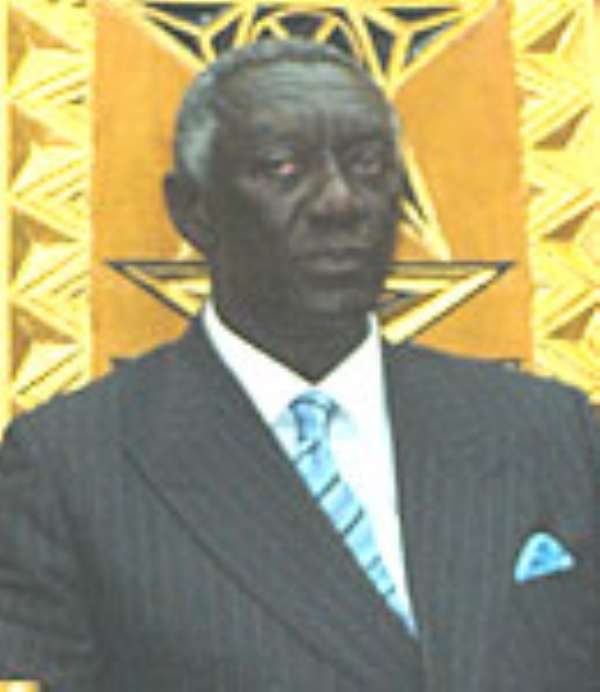 President J. A.Kufuor yesterday justified the selection of 23 districts for the implementation of the Millennium Challenge Account (MCA) with the explanation that the sole intention of the project was investment which would yield substantial returns for the benefit of the entire nation.
He said the government was right and that the selection had no political connotation or undertones.
Inaugurating the 13 member board of the Millennium Development Authority (MiDA) to oversee the smooth implementation of the compact at the Castle, Osu in Accra, President Kufuor said partisan politics did not influence the selection process, saying, "As I sit here, my own district was not included in the project."
He said the compact, which would inject 547 million dollars into the economy for the transformation of rural agriculture, would be signed on August 1 in Washington DC, USA.
The President said Ghana was not selected as a beneficiary of the MCA on a silver platter, adding, "We have come by the funds through good governance and the acceptance of the government as a government which works with transparency."
President Kufuor said within a period of five years, the project would lay the infrastructure for agricultural mechanization, encouragement of agricultural marketing, storage and best practices.
He charged members of the board to live up to the expectation of the people and the farmers of the country.
President Kufuor said although the government would restrain itself from interfering in the activities of the board, it would not hesitate to remove members who would act contrary to the objectives of the MCA and Ghana.
The Minister of Public Sector Reforms and Chairman of the MiDA Board, Dr Paa Kwesi Nduom, explained that the board was set up as an independent body by Act 702 to supervise the management and implementation of the programme.
The Vice-President, Alhaji Aliu Mahama, was present at the inauguration.
Other members of the board are the Ministers of Finance and Economic Planning, Local Government, Rural Development and Environment, Trade and Industry and Food and Agriculture, Messrs Kwadwo Baah-Wiredu, Stephen Asamoah-Boateng, Alan Kyeremanten and Ernest A. Debrah, respectively.
The rest are Mr. Augustine Adongo and Nana Owusu-Afari, both representatives of the Private Enterprise Foundation (PEF), Dr Albert Tenga, civil society representative, Mr. Robert Hindle of the Millennium Challenge Corporation (MCC), Mr. Matthew Armah, the acting Chief Executive of MiDA, Mr. Hanan Gundadow, Mr. Fredua Agyemang and Mrs. Wilhelmina Essie Vandyke-Owusu, all representating district assemblies across the country.