Ghanaian Star Returns To Fiorentina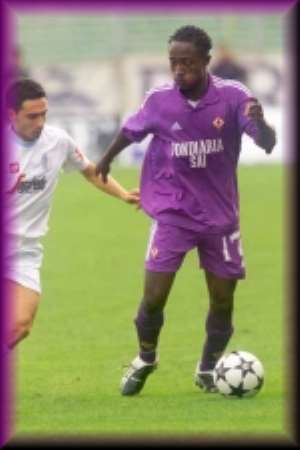 Bismark Ekye, is set to become one of the few Ghanaians to play in the competitive Italian Serie A league this season.
The fomer Okwawu Youngsters striker returned from a loan spell with Swiss side, Vaquez, to Florentina and is determined to make a regular place in the team.
Bismark, who stands at 1.86m, and had played in clubs like Brazillian side Dos Santos, had by the end of a spell with Vaduz attracted offers from leading clubs in Holland and Germany but insisted on a return to Fiorentina to complete his five-year contract.
He congratulated the Black Stars for qualifying for the World Cup and regretted that he could not honour one of the matches against Cape Verde due to flight problems.
He revealed that he was first invited by Coach Mariano Barretto to prepare for the qualifier against South Africa and even played against Togo.
But he admitted he did not impress the handlers due to the weather conditions.
Bismark believes if given the chance to camp with the Stars to Portugal, he would prove to be a good player for the Stars in the World Cup.
He said African teams needed a positive attitude, saying that Africa had equal chances just as the Europeans if they adopted the right mental approach