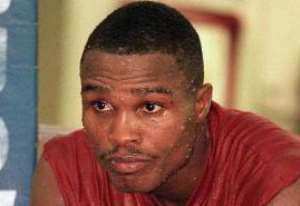 Former WBA Welterweight Champion, Ike 'Bazooka' Quartey says the issue of retirement is out of the question for him as a boxer.
The Bazooka, who bounced back last year after a five year lay-off, has since won all his three comeback fights and is set for a mouth-watering prize fight with former Junior middleweight Champion Vernon Forrest in New York in April. He has started intensive training and has about eight more weeks to finalise arrangements to face Forrest on April 15th.
Quartey, looking fit and in good shape to exhibit another scintillating performance, told Citi FM in an exclusive interview that he has targeted five crucial bouts before he can decide what to do next with his life. He described Forrest as a fierce fighter and stated that he is not taking the fight lightly at all.
The Bazooka hinted that he can guarantee a World Title for Ghanaians by the third quarter of this year, insisting that he feels eager to go out and prove to the World that he still has what it takes to conquer the World. Vernon Forrest is scheduled to fight a preliminary bout on the 3rd of March before taking on the Bazooka in April. Forres! t is fondly remembered for overcoming Shane Mosley on two occasions.
Meanwhile, Oscar De la Hoya has been described by Ike Quartey as the first man on his HIT LIST. He stressed that memories of his painful loss to the American in 1999 still lingers in his mind and he is ready for revenge. Notable names on the Bazooka's hit list are Fernando Vargas, who beat him in 2000, Shane Mosley and Winky Wright.
In a related development, trainer of the former Champion, Oko Odamten says money is not the reason for the April 15th bout in New York, insisting that his fighter's desire to get into the ring is the overriding factor.