Jessie Lartey Awarded $2,000 For Winning Bronze At 2018 Commonwealth Games In Australia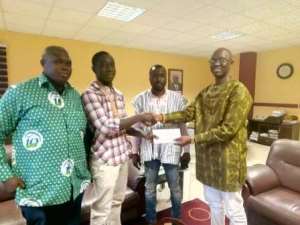 The government of Ghana has made good its promise by presenting $2,000 cash to Commonwealth Games' bronze medallist, Jesse Lartey, at a short ceremony in Accra.
Presenting the amount at his office, the Acting Director General of the National Sports Authority (NSA), Mr Majeed Bawa, implored him to soar higher and win more laurels for the nation.
He said that a little misunderstanding prolonged the handing over of the money to the boxer who was Ghana's only medallist at the Australia Games.
Lartey, a 23-year-old Prison officer, thanked the government for not reneging on its promise and pledged to win gold at the next Olympics Games in 2020.
The president of the Ghana Boxing Federation, Mr George Lamptey, thanked the government and stated that the gesture would serve as a motivation for other boxers to win laurels at the next Commonwealth Games.
He told Yours Truly, the presentation came late, but it's better and would motivate Jessie to perform better at the Tokyo 2020 Olympic Games.
Coach Ofori Asare, trainer of the Black Bombers said many of his boxers could have entered the medal zone if they had got some exposure before the Games.
He appealed to the government to support the amateur boxing with foreign training programmes to motivate and inspire the boxing in the national team.