Agbeko fights in London on Sunday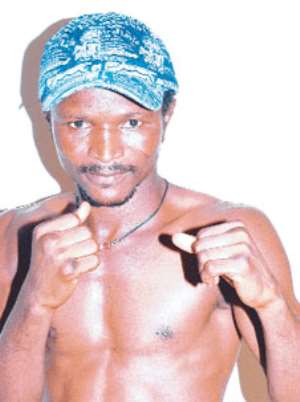 Accra, July 19, GNA - Joseph "King Kong" Agbeko, Ghana's hard-hitting Commonwealth bantamweight boxing champion mounts the ring on Sunday, July 24 in London against Emil Stoica of Romania. Speaking to the GNA Sports from his London base on Tuesday, Agbeko said he would use the fight against the Romanian as a test case for his Commonwealth title defence in September against either Noel Wilders or Martin Power.
The fight against Stoica, billed for the Equinox, Leicester Square in London is over eight rounds.
The Ghanaian said he had been training very hard ever since he arrived in the UK early in the year but has not had fights because most of the opponents his promoters contacted chickened out after gathering information on him.
With a fight record of 23-1-0: 19 knockouts, Agbeko who now wants to be known as the "Fresh King" said he was looking beyond Stoica and his title defence.
"I have worked very hard as a professional boxer and I think I am now on the threshold of fame because I am ripe to be a world champion." He said though his target was to win a world title in 2006, he would not shy away from the opportunity if it came earlier that anticipated.
The champion said he as a person, had done everything that should be done and called on his fans to pray for him to achieved his goals.