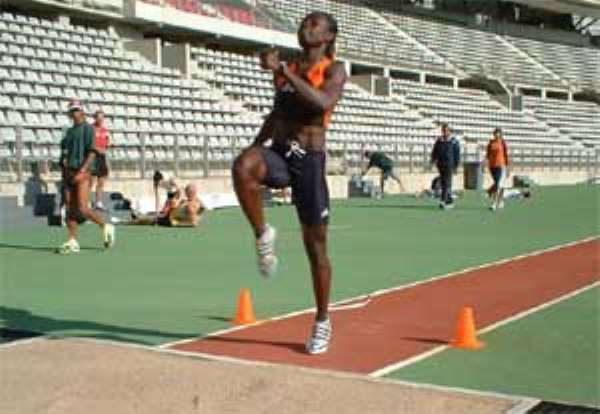 In the women's Heptathlon Margaret Simpson from Ghana won her second Multistars title with 6006 points. The African threw 48.41m in the Javelin, her strongest event to take the lead in the overall ranking. Janice Josephs from South Africa confirmed her runner-up position in the second day with 5958 points. Tiia Hautala from Finland went to the podium in third place with 5893 points. The 19-year-old Briton Jessica Ennis, leader after day one, smashed her PB to finish fourth with an excellent score of 5827 points and qualified for the European Junior Championships in Kaunas.
Overnight leader Jessica Ennis mantained her first place after improving her PB to 6.09m in the Long Jump (877). The overall order did not undergo any significant changes with South Africa's Janice Josephs remaining in the runners-up position with 6.14 (893) ahead of Margaret Simpson (6.09 – 877pts).
Simpson went into the lead with 48.41 in the Javelin Throw (829). This event is the weakest for Ennis who slided into fourth position although she improved her PB to 30.28. Finland's Tiia Hautala moved up into third after a solid 46.34 in the javelin (789).
Josephs won the 800 metres in 2:15.79 (882) but this performance was not enough to take the lead because Simpson defended her winning margin with a run of 2:18.60 (843).
"Some days ago I thought that winning was too much because it was my first competition since the Olympic Games in Athens. For my first event of the year a score of 6006 points is good. Now I will prepare for three weeks in the Italian town of Schio for Götzis", said Margaret Simpson.