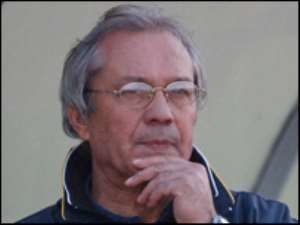 … As he leaves for Nairobi toady to prepare the grounds. The manager of the Ghanaian side Black Stars, Ratomir Dujkovic is confident of securing a good scoreline in a crucial group B world cup qualifier against Democratic Republic of Congo (DRC) in Kinshasa later this month.
He told SPACE FM in a telephone interview just before leaving for Nairobi,Kenya that notwithstanding the absence of key players like Osei Kuffour, Michael Essien and Baffour Gyan, the team would fight gallantly to lift the flag of Ghana high.
"The players are aware that Ghana's qualification to Germany 2006 depends largely on this crucial tie, and are therefore prepared to die a little hard for the country", he sounded confidently.
The Serbian who is fondly remembered for his huge success in Rwanda would play his first competitive match for Ghana against DRC on the 27th March, 2005. Ghana and DRC are tied at the 2nd spot with 9 points apiece in group B with the former having superior goals.He asked Ghanaians to offer their unflinching support as the Stars prepare for a match which has the potential of determining whether we go to World Cup or not.