October 5, 2016
|
Sports Football News
Hundreds Of Young Players Join 2016 Aspire Football Dreams Caravan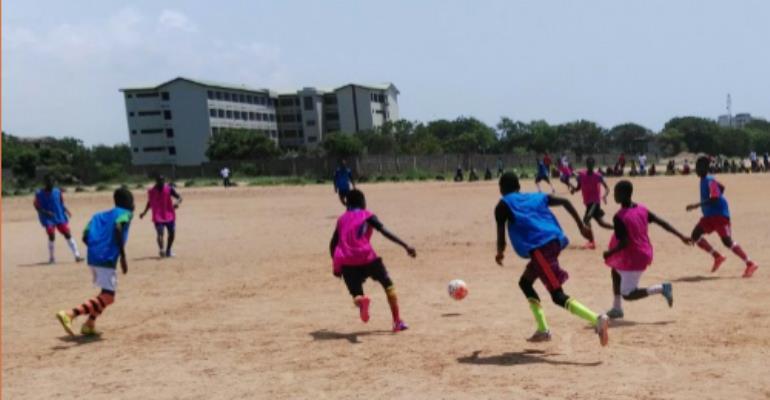 The 2016 Aspire Football Dreams scouting and selection programme has begun in Ghana with the interest and awareness rising from center to center.
As the numbers of interested players keep increasing, the standard or level of some players is also too good to be described.
Yours truly was at the Town Council Line scouting programme which took place at the Indafa Park at Mamprobi on Wednesday where over 190 young footballers have reported to play and show their talent to be selected for the 2016 Aspire Football Dreams training in Senegal and Qatar.
Coaches Xavi Connas who was supported by Emmanuel Ofoe and Joshua Tetteh, coordinator of Town Council Line praised the standard of play by the boys drawn from different clubs and schools.
He said Ghana has the raw talent and he loves coming back to see what he loves most.
The Football Caravan or Route Exercise started from September 28, after the media launch of "Ten Years of Aspire in Ghana" at the British Council. The Route Exercises will climax on October 7, before the main camping at Tema and final selection on the astro turf of the Tema Stadium.
Alexander Tetteh, Administrative Manager of Aspire Football Dreams noted that the ten years of Aspire is being celebrated and when the coordinators meet at Tema between October 10 – 14, it will be a time of reflection and learning new ideas and skills.
He thanked all coordinators working on the Aspire Football Dreams project and urged them to renew their efforts try to acquire new knowledge during the 2016 camp.
Football Dreams is a fascinating and unique scouting project aimed at identifying the future talents of football. It provides thousands of 13-year footballers the opportunity to demonstrate their skills in order to become a professional football player with a brilliant future. For its tenth edition, the program covers an in-depth, 18 country spread, over 3 continents, relying on a team of prestigious coaches and scouts who have gathered international experience at the greatest clubs.