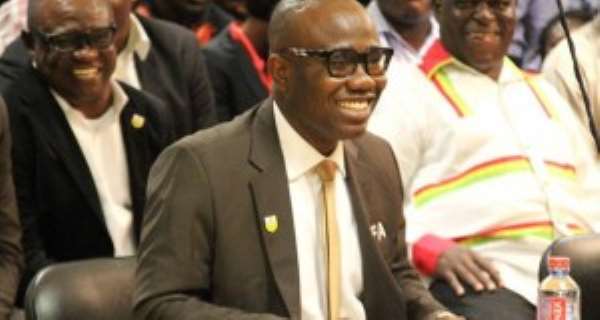 The Sports Writers Association of Ghana (SWAG) has sent a goodwill message to Mr Kwesi Nyantakyi, President of the Ghana Football Association (GFA) as he seeks to be elected onto the Executive Council of the Federation of International Football Association (FIFA).
A statement from the secretariat of SWAG said, the efforts of Mr Nyantakyi towards the development of football in Ghana and the continent puts him in a poll position to pick one of the two slots reserved for Africa.
"Having restored Ghana's name on the Executive Committee of the Confederation of Africa Football (CAF) after a long absence, the opportunity at FIFA provides him with another opportunity to project the name and flag of Ghana.
"We are convinced that you will chalk another significant milestone in the history of football in Ghana and Africa by winning the elections in Cairo, Egypt," the statement noted.
The statement called on Ghanaians to pray and support the GFA president to come out victorious in the crucial elections.
Mr. Nyantakyi is among the four candidates who will be seeking a place on the Executive Council of FIFA.
He will be competing with Almamy Kabele Camara of Guinea, Ahmad of Madagascar,  Hamidou Djibrilla of Niger and Augustine Senghor of Senegal.