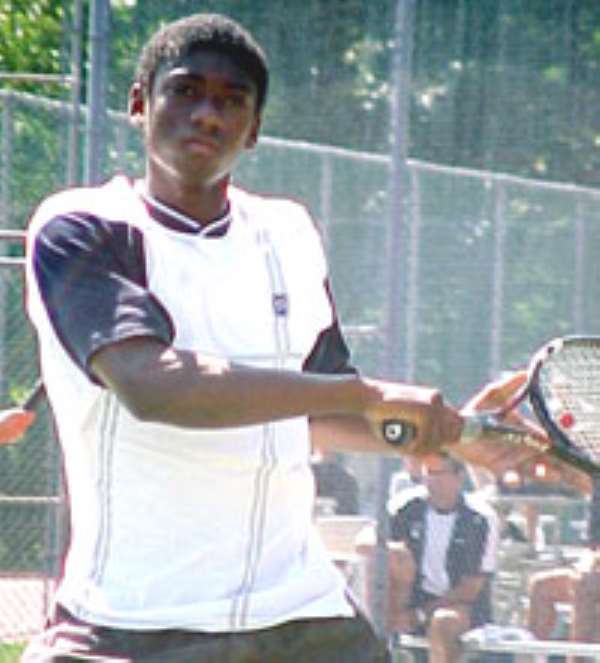 (A GNA Star profile by Veronica Commey)
Accra, Aug 24, GNA - He is ambitious, he is a Ghanaian and he feels good heading towards his goal.
The country's number two seed, Henry Adjei Darko's incredible performance in the just ended International Tennis Federation's (ITF) Satellite competition held in Nigeria is seen as one of the few stars of his class whose fame transcends the Nigeria tournament. Adjei Darko who weighs 75 kg, has gone from winning most of his games from age seven up to the time that he turned professional at the age of 20 and has dominated the senior event in an incredible short space of time - normally athletes require several years just to adapt to the higher demands of making that step up.
Now at the age of 21, the ebullient star has taken his gruelling ambition to an enviable level, a situation which has seen him been touted as the torchbearer of the country's tennis.
The United States based star who loves playing on hard surface played a vital role in bringing the country back to "Zone Two" from "Zone Three" when the team chalked a remarkable success in the last Euro-African Davis Cup Championship staged in Namibia earlier in the year.
The serve and volley player is likely to assume the driving seat at the expense of Ghana's number one seed, Gunther Darkey by virtue of his Nigerian performance, which has seen his ranking soar over 200 points. The buoyant Adjei Darko who has won six major "future tournaments" in the Juniors' events whilst his victory in Nigeria marked his debut in the senior level since turning professional told the GNA Sports that he was mentally prepared to receive the mantle from Darkey whom he assisted in their last championship.
"I have learnt so much in my few years of involvement with the game which gives me the optimism that I have whatever it takes to hold the fort".
Having built 26 ATP points in the Singles event and 35 ATP points in the Doubles event, the player's current ambition is to improve upon his baseline game as part of his quest to become a complete star and believes that his game has seen enormous improvement capable of taking him to any height with discipline and dedication.
He, however, attributed his success to dedication and self-discipline. "I don't know what else I cannot do with self discipline, dedication, hard work and the required exposure." the budding tennis star revealed to the GNA Sports.
Adjei Darko who is based in the state of Atlanta in the United States of America (USA) reckoned that there has been a vast improvement on his talent hunt and performance, an area he credited to his exposure to the standard facilities and training regimen in the US. He explained that the quality of opponents in Atlanta and his frequent participation in championship matches has immensely lifted his game.
"I am getting better because I play against advanced, talented and credible opponents who's incredible and positive impact game after game is yielding fruits for my onward match."
Currently preparing for another "Future Tournament" slated for California, (USA) the player is hopeful that reaching the semi final stage of the up-coming competition would be an added booster to his current confidence.
"It is always difficult to play and win in such championships and I know people might be doubting why I would not talk about the ultimate, but I know reaching the last four would be a great achievement for a player of my calibre."
The soft-spoken Adjei-Darko plans to play in all the major grand slams by the age of 24 and says, "I don't feel like a star. I am just a young and ambitious boy who wants to take the image of the sport to another level, I need to follow my plans and take it easy."
On his future with the Davis Cup team, the player debunked claims that he was unwilling to honour future national calls.
He, however, said there was the need for the authorities to get things right so as to get the maximum commitment from the players. "It is not right to have things done anyhow, you don't expect us to be purchasing our own water and other equipment whilst on national duty."
The player was blunt about his expectations from the authorities when he underlined the need to keep the inflow of communication, where dialogue would be mutually respected for the good of the game.
Many are those who believe Adjei-Darko's father has so much influence on him and even decides which tournaments he has to play among other issues while some of his critics also claim his inability to relinquish what they term as " parental influence" has been his down side.
" My dad comes in only when I do not know what to do. They are very wrong about what they say, my dad is not a dictator, he respects my decisions and I am my own man." He explained to the GNA Sports.
He asked, "What do you expect from a father who pays close to 1000 dollars to enable me take part in a single international competition?" Do you expect him to sit aloft and watch me blow my tennis aimlessly and allow people to use me the way they want?," as he left the answer to his critics.
Swiss player Roger Federer, the 2004 Wimbledon Champion, is his mentor. " I admire his skills and passion for the game and it is my dream and aspiration that I get to his level." Adjei Darko noted.
When quizzed about his expectations from the sports authorities, he said "I have learnt that one must sometimes lose to become a better person, winning will never come easy and it needs enormous task to stay in control in times of difficulties, but I find it so difficult to appreciate why our country fails to give equal support to all sports men and women when it is glaring that our performance would see immense improvement with little push from the controlling body."
"I believe paying a maximum of 900 dollars and a minimum of 450 dollars to enable us compete in high profile tournaments every month must not be too much for the authorities to bear".
The player called on the Ministry of Education, Youth and Sports to take up a role that will ensure that the necessary support is ensured since that would automatically improve the performance of the players as a way of turning round the image of the game in Ghana.