Former NFL star Hernandez bags life in prison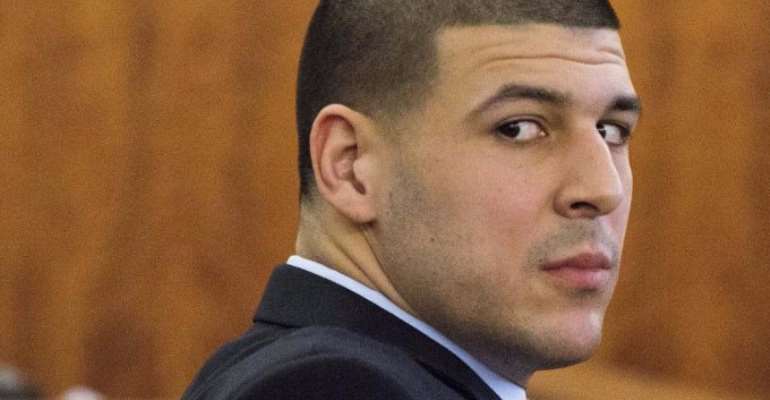 Former NFL star Aaron Hernandez faces life in prison after a jury convicted him Wednesday of first-degree murder in the late-night shooting death of a semi-pro football player in 2013.
The murder and four-month trial in a Massachusetts court cements a spectacular fall from grace for the 25-year-old Hernandez, who once had a $40 million, five-year contract with the New England Patriots.
The victim, Odin Lloyd, was a 27-year-old semi-pro football player whose bloodied body was found in North Attleboro, Massachusetts on June 17, 2013, less than a mile from Hernandez's luxury home. Lloyd had been dating the sister of Hernandez's fiancee. The 12-person jury took seven days to reach the unanimous verdict, which carries a mandatory life sentence.
Hernandez glanced to the side and pursed his lips after the jury pronounced the first-degree murder conviction, and as his mother and fiancee sobbed in the gallery. Dressed in a sharp suit and tie, he sat down as the jury convicted him on two separate gun and ammunition charges. Judge Susan Garsh was expected to begin the sentencing phase of the trial after a short break.
Analysts said the evidence against Hernandez was overwhelming. He was arrested nine days after Lloyd's body was discovered and has been in custody ever since. The former tight end was dropped by the Patriots hours after his arrest. The murder weapon has never been found. Prosecutors called more than 130 witnesses in an effort to prove Hernandez pulled the trigger on the handgun that killed Lloyd.
He and friends Ernest Wallace and Carlos Ortiz drove with Lloyd to an industrial park in North Attleboro, where Lloyd was shot multiple times and left for dead. In his closing statement, defense attorney James Sultan acknowledged for the first time that Hernandez witnessed the killing, but claimed either Wallace or Ortiz pulled the trigger.
Wallace and Ortiz are to be tried separately on murder charges. "He was a 23-year-old kid who witnessed something," Sultan told the court last week. "A shocking killing. Committed by someone he knew. He didn't know what to do." Prosecutor William McCauley had implored the jury members to pore over the evidence, saying it pointed to Hernandez's guilt on the first-degree murder charge.
The judge told the jury it was up to them whether they were willing to talk to the media after reaching their verdict.
Story by vanguard/TB