Ghana stretched us to the limits in AFCON qualifier – Uganda playmaker Mawejje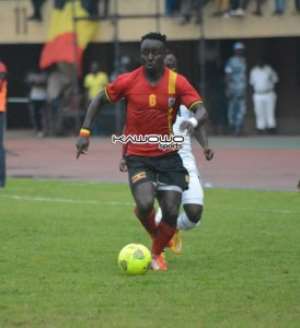 Uganda midfield maestro Tonny Mawejje has admitted that Ghana was the better side when clashed in their AFCON qualifier on Saturday even though they managed to win the match.
The Cranes defeated the Black Stars 1-0 on Saturday to revive their hopes of reaching next year's tournament in Equatorial Guinea.
Despite the victory, the playmaker admits that the Ghanaians dominated the game which left them on the back foot most of times.
"We did a great job on Saturday. All lads played well and the concentration levels were high throughout the game. Ghana is a good side who stretched us to the limits but we held on," Mawejje said.
Following the 1-0 victory over Ghana, Cranes midfield maestro Tonny Mawejje now turns attention to the clash against Guinea.
The two teams face off in Casablanca on Wednesday in a game The Cranes must win to reach the finals to be held next year in Equatorial Guinea.
"Thank God for the victory against Ghana but it's not over till Wednesday,", he added.
The Cranes must beat Guinea to qualify for the finals but as Guinea has beaten Togo, a draw will be enough to seal a place in the finals in Equatorial Guinea.