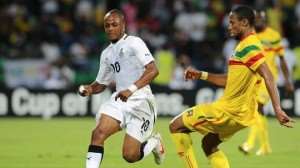 Liverpool are in the lead in the race to capture Ghana midfielder Andre Ayew from French side Marseille in the wake on interest from their English Premier League rivals Chelsea.
Chelsea are believed to have joined the race to sign the talented player following news this week that the Ghana star would leave Marseille for free at the end of the season.
With his contract running out in June, Marseille are desperate to sell him by January when the transfer window opens to avoid the Ghana star from leaving for free.
Despite Chelsea making enquiries about the Ghana star, Liverpool are understood to have made the most progress in capturing the Marseille.
The Marseille attacker has been linked with a move to Liverpool many times in the past, and new reports this week suggest that the Reds are planning to make a January move the Ghanaian international.
According to The Mirror today:
* Ayew is refusing to sign a new contract wants a move to England.
* Liverpool and Chelsea are interested, and a pre-contract agreement in January is a possibility.
This follows a recent report in French newspaper L'Equipe , which claimed that the 24 year old 'dreams' of a move to Liverpool.
€15m -rated Ayew has a soft-spot for Liverpool, and when interviewed last season on French TV show Telefoot , he enthused:
"It [The Premier league] is a league I always think of. I am Ghanaian and an English speaker, and I have a strong preference for England. As for Liverpool – I followed them as a child"
When asked about his future recently, Ayew told reporters :
"Everything is possible. I'm under contract and proud to wear this jersey. I could have left it two years ago, but I stayed, had finished second. We'll see"
Ayew's versatility probably makes him an appealing option for Brendan Rodgers. He can play as a winger, or a striker, but is he prolific enough, though? Stats for the last few years:
* 2010-11: 13 goals/3 assists in 51 appearances.
* 2011-12: 16 goals/4 assists in 39 apps.
* 2012-13: 13 goals/5 assists in 45 apps.
* 2013-14: 8 goals/3 assists in 29 apps.
* Goal/Assist every 2.5 games.
Liverpool have Lallana, Markovic, Sterling, and Coutinho, but the Reds could (arguably) do with another quality attacking midfielder.
Ayew is much more experienced that the likes of Suso, Markovic etc, so for the right price, it could be a shrewd transfer.
Click here to watch links of goals scored by Andre Ayew in the French top-flight last season.