WC quarter finals: Fact file: France vs Germany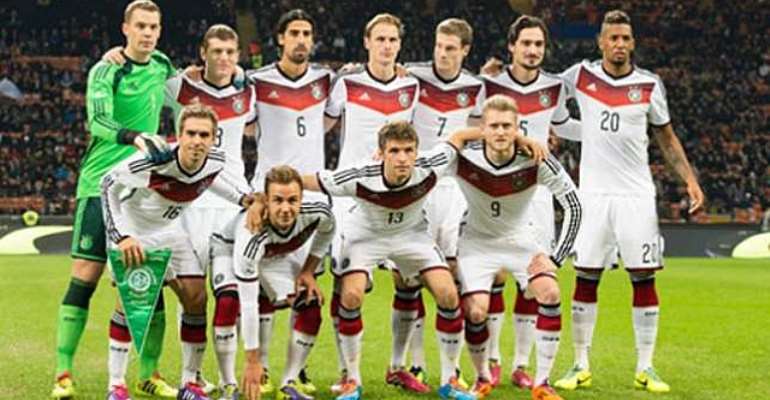 France
On the last five occasions that France have progressed past the first round at the World Cup, they have gone on to reach the semi-final stage (1958, 1982, 1986, 1998 and 2006).
Les Bleus are now on 10 goals at this World Cup, equalling their tally from the previous three World Cup campaigns combined (2002, 2006 and 2010).
All 10 of France's goals during this World Cup have come from inside the penalty area.
They have lost only one of the 10 games they have ever played in Brazil (W6, D3).
France have hit the woodwork six times at this World Cup, more often than any other team.
They have not conceded a first-half goal in any of their last 12 games.
Mathieu Valbuena completed 94% of his passes in the last round against Nigeria.
Karim Benzema has had an unrivalled 13 shots on target at this World Cup ahead of the quarter-finals.
Germany
Germany are contesting a quarter-final for the ninth straight World Cup.
They have reached the semi-finals at the last three World Cups. No nation has ever made the last four in four successive tournaments.
Germany are unbeaten in their last 15 internationals (W10, D5), the best run of any side still involved at the World Cup.
They had 16 shots on goal against Algeria, as many as they had in their three group matches combined.
Manuel Neuer celebrates winning a half century of caps in this game and has lost just three times in his previous 49 appearances.
Toni Kroos (473) has had more touches than any other player at this World Cup so far. Team-mate Philipp Lahm (437) is the only other player to have more than 400.
Thomas Muller has been directly involved in seven of Germany's last 12 goals at the World Cup (five goals, two assists).
Germany had a record seven Bayern Munich players in their starting line-up against Algeria. Players from Bayern have contributed 14 goals at this World Cup - more than any other club side - Thomas Mueller (Germany) four, Arjen Robben (Netherlands) and Xherdan Shaqiri (Switzerland) three, Mario Mandzukic (Croatia) two, Mario Goetze (Germany) and Julian Green (United States) one.
 
Current form
France are world number 17, whereas Germany are ranked number 2.
Note: THe performance of the teams in this world cup is not part of the current FIFA ranking.
 
Last 5 games by France
World Cup 2014, Final tournament, Group E
20.06.2014                           Switzerland        -             France                  2:5 (0:3)
World Cup 2014, Final tournament, Group E
15.06.2014                           France  -             Honduras                            3:0 (1:0)
Friendly internationals 2014
08.06.2014                           France  -             Jamaica                                8:0 (3:0)
Friendly internationals 2014
01.06.2014                           France  -             Paraguay                             1:1 (0:0)
Friendly internationals 2014
27.05.2014                           France  -             Norway                                4:0 (1:0)
They have won 4 and drawn of their last 5 games
Last 5 games by Germany
World Cup 2014, Final tournament, Round of 16
30.06.2014                           Germany             -             Algeria                  2:1 aet
(0:0)
 Porto AlegreEstádio José Pinheiro Borda (Beira-Rio)
World Cup 2014, Final tournament, Group G
26.06.2014                           USA       -             Germany                             0:1 (0:0)
 RecifeItaipava Arena Pernambuco
World Cup 2014, Final tournament, Group G
21.06.2014                           Germany             -             Ghana                   2:2 (0:0)
World Cup 2014, Final tournament, Group G
16.06.2014                           Germany             -             Portugal                               4:0 (3:0)
Friendly internationals 2014
 
06.06.2014                           Germany             -             Armenia                               6:1 (0:0)
They have won 4 and drawn 1 of their last 5 games