Ashanti Airtel Rising Stars winners target World Cup appearance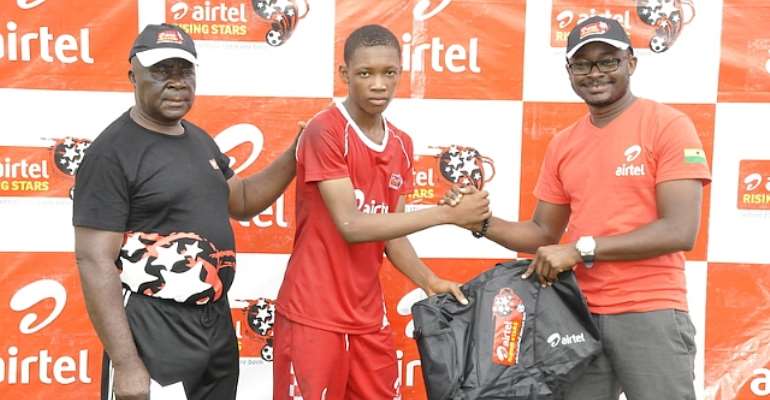 Several players of the Ashanti Regional Team that won Zone Four of Ghana's Airtel Rising Stars event say their target in life is to appear at a Fifa World Cup finals.
Inspired by world class performers like Neymar(Brazil), JameS Rodriguez (Columbia) and Lionel Messi( Argentina),the Ashanti Regional lads say watching the ongoing 2014 Fifa world Cup in Brazil is motivating them to reach the highest points in their careers.
Abdul Razak, voted the best player of the zone said, he believes with hard work and lot of prayers, he can command the world stage in a few years' time.
"Watching the world cup has shown me there are many levels I have to reach in my career. I want to be as good as Neymar or Messi. When I see them, I feel inspired by their play. And one day soon, maybe the world will be talking about me too."
Abdul Razak's view is shared by teammate Kwasi Opoku who said " it's the same football we play here. The difference with Messi, Neymar and the other players is that they have played the game for longer than us and they also have some of the best facilities in the world. But some members of our team have the talent to be great and we are thankful to Airtel for this competition so we can be encouraged to conquer the world." Said Opoku.
The Ashanti Regional team won both the Boys and Girls championship leaving Brong Ahafo Region the other member of the zone in a consolation trail.
Donald Dwira
Ashanti Region seemed to have caught the inspiration to perform from Donald Dwira, Airtel's Director for Communications and Corporate Social Responsibility who charged the teams to take the zonal games serious.
"Somebody's career begins today. Today some of you will start the journey to become Asamoah Gyan or Neymar or Messi. These big players in the world were once just like you. It is all hard work and determination to make it in your chosen football career. What Airtel is doing for you is to give you a platform. That platform is for you to be discovered and helped to live your dream as a footballer. But it starts today and if you work hard you will change people's destinies and bring joy to Ghana."
All four zones in Ghana which envelope the ten regions nationwide will now converge on Sunyani for the national finals of the 4 th edition of Ghana Airtel Rising Stars. Though the individual zones will be battling for trophies and honours, a technical team made up of some of Ghana's most celebrated coaches will pick a national team to represent Ghana, at the African Airtel Rising Stars competition to be held in Gabon in August.
Ashanti Regional Champions.
Former Black Stars trainer, Nana Akwasi Afranie expects a tough and talented team to be selected out of the Sunyani event.
" We meet in Sunyani from the 18 th to 21 st in Sunyani for three days of competition. From what we have seen of the zonal competitions, Sunyani will really showcase the talent we have in Ghana at the juvenile level.
These are the players who will represent Ghana in the future. I am confident we will pick a very good team in Sunyani for the sake of Ghana and for the sake of the talent at our disposable.
Airtel Rising Stars is the most structured competition at the juvenile level in Ghana football and everybody will see why after the Sunyani event" Nana Afranie said.
Ashanti Girls Celebrating
Some fans who came to watch the competition advocated that some of the rising stars be drafted into the national teams.
Kwabena Anim, a resident of Kumasi and banker said "look at these players. They are talented and well behaved.they are the future Black Stars. They have to be drafted into the national teams to bring respect and discipline. That is what we need now in Ghana Football."