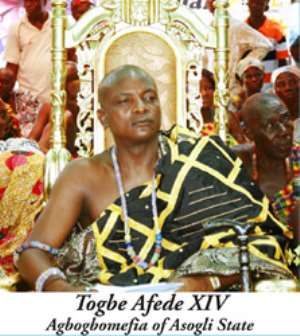 Togbe Afede XIV
Ace senior sports journalist, Kwabena Yeboah has stated that Accra Hearts of Oak Board Chairman Togbe Afede XIV was wrong to sack David Duncan no matter the circumstance.
The celebrated Sports Writer insists the Board Chairman must take blame for the current predicament of the club because the decision to sack Duncan was so untimely and thus was always going to derail the club.
There has been a lot of public reactions and mixed sentiment after the shock axing of the ex Ashanti Gold trainer from Hearts of Oak months ago and the legendary broadcaster has waded into the debate claiming Togbe Afede could have exercised restraint in his action.
"In the first place, nobody ever though Duncan was going to be sacked or deserved a sack so it came as a shock to many of us". Kwabena Said
"The club was doing well under Duncan and publicly, everyone knew there was no impending crisis in the fraternity because the two (Togbe and Duncan) had made it seem everything was alright between them".
"Am saying that if even there was any issue between the two, they could have resolved it amicably in the best interest of the club without creating all this mess they find themselves in now".
"I don't care whether (Mohammed) Polo is doing well or must be sacked but the best thing was to keep Duncan for in the best interest of the club".
"The decision to sack Duncan at that particular moment and time was very wrong". He added.
The Phobians have endured a torrent time in the post Duncan era winning just one match out of 5.