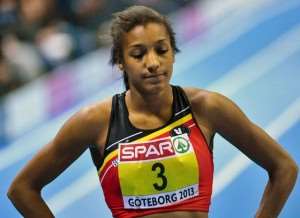 Bad news for the Belgian athlete Nafissatou Thiam (18).
The one who broke the world junior record in the pentathlon during the Belgium Ghent indoor athletics championships will not see her prowess approved by the International Athletics Federation (IAAF).
And because the athlete did not perform doping control on the spot as required by the regulations of the IAAF. The only doctor allowed to perform the test left the scene when Thiam beat the record.
"We tried to contact someone, the leader of the meeting did his utmost, but nobody was joinable," said Christian Maigret, the sports director of the French League (LBFA).
According to sportmagazine.levif.be , when a competition takes place in Flanders, only a doctor approved by the Flemish Community can perform the doping test. In Wallonia, the physician must be approved by the French Community. "An aberration" which costs Nafissatou Thiam and Belgium a splendid world record.
"I hope this will be a lesson for the future, if this record will really be useless. We need to put together to find a solution, if not tomorrow, a new record will be beaten without a doctor present and the story will happen again. " Said Roger Lespagnard, the coach of Nafissatou Thiam.