Joy Arkutu wins January Coca Cola Monthly medal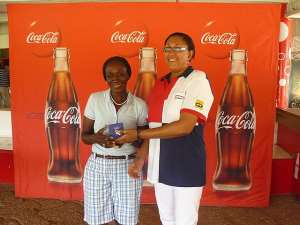 Joy Arkutu
Accra, Jan. 29, GNA - Joy Arkutu emerged the winner of the January Coca Cola Monthly Medal at the Celebrity Golf Club with a net score of 75.
She was followed by Gladys Sitati, who finished second after she returned a net score of 80 on count back having beaten Helen Appah into third place with same net score.
In the male division, Daniel Quo lasted the Men's full field despite a sloppy finish to a net score of 68 to take home the coveted trophy as well as products from the sponsors, whilst House FuFu calmly sank the putt on the hole 18 for a net score of 70 to finish at second place on count back, with Ahish G placing third with a net score of 70.
H. Adu Agyei received special prize of products from Coca Cola for a sumptuous birdie he sunk on hole 11.
Winners in the various divisions received medals and products from Coca Cola.
The 2013 maiden medal brought together about seventy golfers who displayed great zeal of golfing to seal off a fantastic day.
GNA