No-hopers E. Guinea a point away from top spot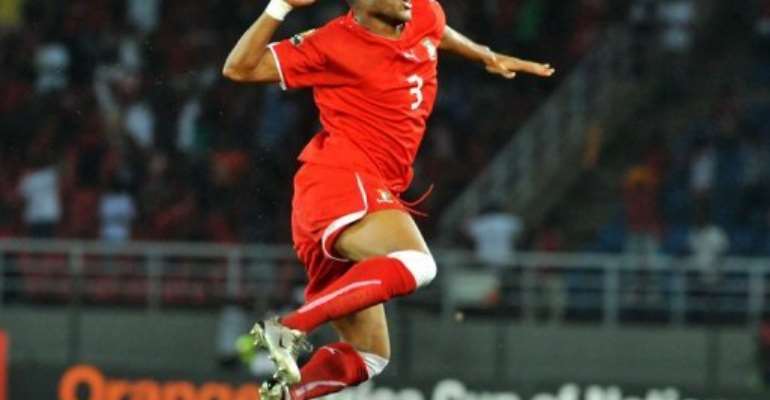 MALABO, Equatorial Guinea (AFP) - Equatorial Guinea are one point away from winning Group A at the 2012 Africa Cup of Nations just eight days after being 125/1 no-hopers.
A draw for the co-hosts and shock pool pacesetters against second-place Zambia at the 15,000-seat Nuevo Estadio de Malabo Sunday will complete one of the most amazing first-round achievements in the 55 years of the competition.
It will take the team nicknamed National Lightning into the quarter-finals next weekend with top spot virtually guaranteeing a knockout showdown against Angola or Sudan.
Although a draw will also ensure Zambia advance to the last-eight phase of the biennial African football showcase, the Copper Bullets want a win to overtake the Equatoguineans and dodge a clash with title favourites Ivory Coast.
Should Zambia lose for the first time in this tournament, fairytale qualifiers Libya would come back into the reckoning provided they overcome already eliminated Senegal in a match that kicks off simultaneously in Bata.
Equatorial Guinea have six points, Zambia four, Libya one and Senegal none with the only certainty being that the Teranga Lions are heading back to Dakar early next week whatever the results.
The co-hosts are ranked only 151 in the world and had a disastrous build-up with a series of friendly losses, including a 4-1 drubbing from fellow minnows Guinea Bissau, before widely travelled French coach Henri Michel quit twice.
He was persuaded to return soon after his first resignation, but his departure less than a month before the kick-off saw 62-year-old Brazilian Gilson Paulo take charge despite having no national team experience.
It seemed like a recipe for disaster, but midfielder, stand-in captain and unofficial team spokesman Juvenal Edjogo was happy to see the end of Michel and his policy of choosing mainly home-based players.
The starting line-up in victories over Libya and Senegal included six players born in Spain who qualified because a parent or grandparent comes from the small part-mainland, part-island central African state with huge oil and gas reserves.
Naturalised players complete the line-up with two from Ivory Coast and one each from Brazil, Liberia and Cameroon, although Monrovia-born Laurence Doe misses the Zambia clash through suspension.
An international football magazine has labelled the team "mercenaries" and "cheats", but a country of 750,000 people has fallen in love with Edjogo and his never-say-die fighters.
"We feel no pressure and our fans are loving every minute of the tournament," said the Spanish second-tier footballer who wears the armband because striker Rodolfo Bodipo is injured.
"Zambia are next and we want to continue winning. I said before this competition kicked off that Equatorial Guinea could go far if the right players were chosen," added the arch critic of Michel.
Copper Bullets coach Herve Renard has set a bottom line of a semi-finals spot and after shocking Senegal his fleet-footed stars got bogged down in a Bata mudbath and had to rally twice for a 2-2 draw.
Apart from a natural desire to succeed, Zambia are desperate to honour the 1993 national squad whose plane crashed off the central Africa coast en route to a World Cup qualifier in Senegal, killing all 30 on board.
"Imagine if we could lift the trophy -- it would be a fantastic way to honour the memories of those who made the ultimate sacrifice while serving the country they loved," said France-born Renard.