Sport's Ultimate Icon On Free Fall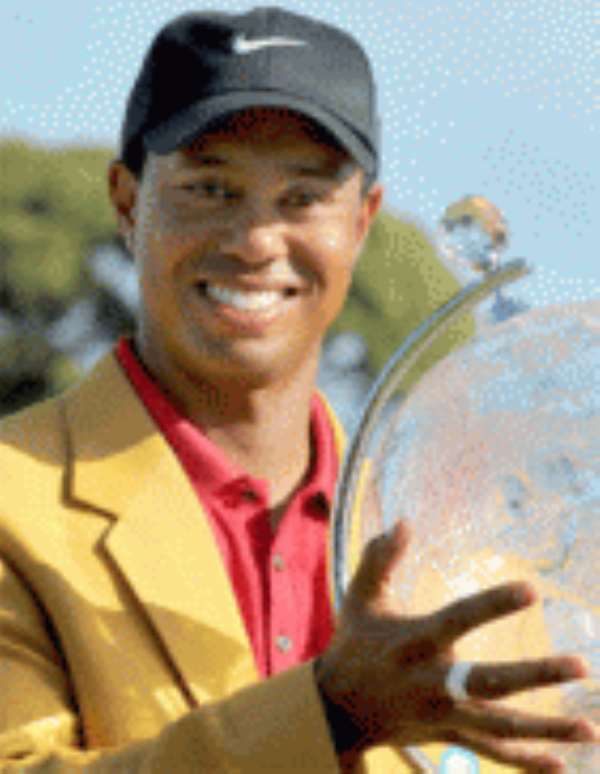 Tiger Woods
was supposed to be the ultimate clean face of sports, the phenomenon whose legend on the golf course, coupled with his own unique racial upbringing and well-managed image, made him one of the most loved sports personalities. His dominance on the course and fine-tuned image brought him millions of dollars in prize money and endorsement of major brands.
Today, Tiger is no longer the 'Mr Clean' the sporting world was made to believe he was, following his admission of infidelity in the wake of newspaper allegations that he cheated on his wife with as many as 11 women at the last count. And within a matter of weeks sport's first billionaire seems to be on a free fall. His sponsors are beginning to turn their back on him and golfs iconic missionary is on an indefinite hiatus to clean up his mess.
The fallout from the sex scandal is already taking its toll on Woods' marketability as a global sports idol, with some of his sponsors moving to distance themselves from the No. 1 golfer and terminating endorsement deals.
Last Saturday, Gillette, which uses the slogan 'The best a man can get', said it won't air advertisements featuring Woods or include him in public appearances for an unspecified amount of time.
The following day global consulting firm Accenture Plc said it was ending its six-year sponsorship arrangement with Woods. It has removed him from its website.
AT&T says it is 'evaluating' its ongoing relationship with him.
Gatorade, owned by Pepsi, has axed a $100 million five-year deal with a Woods-sponsored drink.
Accenture, the business consulting group that built a marketing campaign around Woods, has removed him from off its website.
Nike, his main, $30m-a-year sponsor which is fully supporting him, can expect a hit to its clothing line sales. Woods signed a five year deal in 2006 which is estimated at £70 million.
The Daily Telegraph of London yesterday reported that the American icon stands to lose an estimated £66 million ($149 million) in income from advertising endorsements if he is out for a year.
He made £12 million pounds in prize money in 2007, his last full season, and would have been expecting to make even more in 2010. He could also lose out on an estimated £10 million in appearance fees, the newspaper said.
Nike, his main sponsor, signed a five year deal with the golfer in 2006 for an estimated £70 million.
Woods is in the fourth of a six-year deal with videogame company EA Sports. His branded video game has so far made £60 million. He also has deals worth almost £20 million for golf courses he his helping to design.
The Telegraph said the losses of a year long absence to the golf industry as a whole have been estimated at more than £300 million, as ticket sales for tournaments Woods pulls out of, would be expected to fall by 25 per cent.
When Woods was sidelined for eight months after his stirring win at the 2008 US Open, television ratings were cut in half.
Attendance is much higher when he is in a field, and even in a recession, it's surely easier to sell sponsors on the merits of spending dollars to back an event that features Woods than not.
Currently holed up in a Florida gated community on 'indefinite' leave from the game that made him a billionaire, Woods has enacted the great celebrity script of rise and fall.
But the ramification of Woods' tarnished image and his hiatus from the sport could be greater than is being envisaged. Golf is reeling from the prospect of losing its iconic market conqueror and missionary.
By any standards, Woods is the foremost global sportsman since Pele and Muhammad Ali, and on his continuing popularity rides a whole coat-tail-holding industry of golf courses, competitions, equipment manufacturers and, most of all, other players, who have seen their own earnings rise handsomely along with Woods'.
For the second consecutive year golf's gravy train will set off without the driver. Woods was out from July 2008 to February 2009 with a knee injury and golf felt the chill. TV ratings fell 50 per cent and the winners of golf's major championships saw their victories downgraded by those who argued they had triumphed in 'a Tiger-less year'.
No one can predict the breaking point for Woods' sponsors. No matter how long he stays off the sport in his bid to save his marriage, sports' ultimate icon has been irreparably tarnished by his sleazy lifestyle. But it remains unclear if his indiscretions have the potential to completely negate his accomplishments.
Some observers look to past examples, like NBA star Kobe Bryant, for evidence that Woods could survive this by reaffirming his dominance on the golf course.
After being accused of rape in 2003, Bryant lost some of his endorsements, including McDonald's and Nutella. But Nike held on, and though it stopped promoting him, the company started using him again in 2005 after he started playing well again.
Whatever happens, the scandal could leave a permanent mark on the marketability of golf in general. Marketers say the sport and its athletes are often sought out by big brands precisely because of its mannerly image and the perception that its athletes are better behaved. Share Your Thoughts on this article Name Email Location Comments Graphic Ghana may edit your comments and not all comments will be published