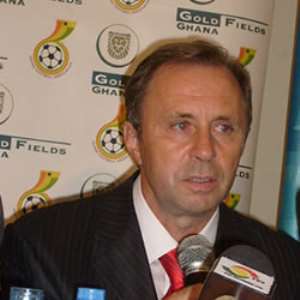 A nerve racking 7-6 penalty shoot-out against Senegal sent the Black Stars to the finals of the maiden CHAN tournament in Bouake, Ivory Coast.
A less spirited Black Stars performance saw them relinquish a solitary goal advantage to Senegal in the first half, and not even the 30 minutes of extra time could produce a winner.
The Stars shot ahead in the 30th minute after Rahim Ayew teasingly outwitted two markers before setting up Yaw Antwi who beautifully slotted the ball at the blind side of the Senegalese goal keeper, Mamadou BA.
But the Stars lead was short-lived as the unmarked Alpha Oumar Sow pounced on a deflected Senegalese free-kick to break even.
From then on the Stars dictated the pace but a comedy of errors stifled them of a clear cut goal scoring opportunity.
Yaw Antwi's 51st minute rebound shot whisked just wide and denied what could easily have been the winner.
Talismanic figure Charles Taylor was a pale shadow of his devastating form he showed in the Stars game against DR Congo and was subsequently pulled out late in the second half.
But that did not help matters either as the Stars attack gasped for life through out remaining minutes of the game.
The Senegalese hardly had any goal scoring opportunity and struggled to assert themselves, but managed to hold on until referee Saadallah Chokri from Tunisia whistled for the dreaded penalty kick.
One after the other, the two teams expertly dispatched their kicks with audacity, making nonsense of the efforts of the two goalkeepers.
Stars goalkeeper Philemon McCarthy however managed to pull off a wonderful save, and striker Kwodwo Poku's kick, sent the Stars to the first ever finals of the CHAN tournament.
The stars will play winner of the Zambia-DR Congo second semi final clash in the grand finale.
Story by Nathan Gadugah