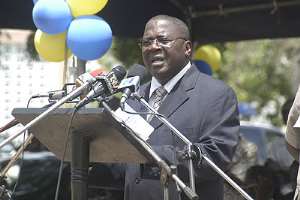 H.E. Vice President Alhaji Aliu Mahama
Vice President Alhaji Aliu Mahama yesterday, inaugurated a Chiropractic and Wellness Centre in Accra, to facilitate the treatment of medical problems like pain, high blood pressure and the prevention of diseases.
The centre, which is the fifth in the country, was established by an African-American, Dr Marcus Manns and is being manned by US voluntary medical doctors and Ghanaian team mates.
Chiropractic, which is low-cost and drug free is embraced in the US, where more than 60,000 licensed professionals take care of millions of Americans.
Alhaji Mahama expressed concern about the rising trend of lifestyle-related diseases like diabetes, gout, obesity and high blood pressure, which, he said often affected people in their productive years.
'This situation has a huge implication on the productivity and development of our nation.'     
Alhaji Mahama said the private sector remain a vital partner in health care delivery and commended Dr Manns and his team for their pioneering role in introducing the innovation.
Major Courage Quashigah (rtd), Minister for Health, lauded the centre as a medical facility that will provide alternative means to promote health delivery.
Dr Manns said the facility is aimed at improving on the life expectancy of Ghanaians by offering free services to the people.
Mr Barack Obama, US President-elect said in a newsletter on Chiropractic distributed at the function that he has plans to support chiropractors and prioritise preventive care.
'As we shift our health care delivery system towards a culture of wellness and disease prevention. I believe that chiropractors must play an integral role in expanding access to preventive care and strengthening our public health system,' he added.