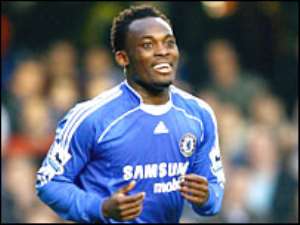 ESSIEN BELIEVES ARSENAL LACK POWER Chelsea midfielder Michael Essien has put the boot into Arsenal's title challenge by claiming they are all style and no substance after their win over Manchester United at the weekend.
The Gunners have not won a trophy since the FA Cup in 2005 and manager Arsene Wenger had been criticised following some poor results before Saturday's 2-1 win over Sir Alex Ferguson's men.
In contrast, Chelsea sit top of the Premier League and have been praised for their fluent style under new boss Luiz Felipe Scolari.
Essien told the BBC's Inside Sport programme: ''Everybody likes to watch beautiful football, but to play beautiful football without points is... I don't think it's worth it.
''Arsenal is one of those teams that just plays beautiful football, but at the end of the day they don't get the points that they want to.''
The 25-year-old has made only two appearances under Scolari and will not return to action until next year after damaging knee ligaments playing for Ghana in September.
And when he does return, he insists helping make Chelsea more attractive to watch will not be a priority.
''For me, I don't care,'' he continued. ''To be rough and get three points, or play well and get three points - win ugly or beautifully - I don't care.''
Despite their difference in styles, Essien has compared Scolari with former manager Jose Mourinho, under whom Chelsea won two Premier League titles.
''He is a bit similar to Mourinho,'' said the midfielder. ''He's always on the pitch with the players and he says to you what he wants you to do. He's a tough man and he knows what he wants.''
Source:soccernet.com  
For more Ghana football news visit www.ghanasoccernet.com