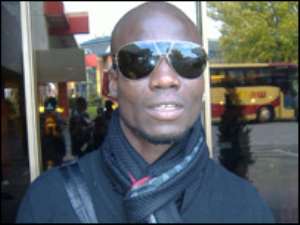 Appiah says he wants the right decision Ghana captain Stephen Appiah has dismissed speculation that he is too expensive for clubs seeking his services insisting he wants to make 'the right decision'. 
The 27-year-old says he is on track in finalising deal to restart his club career as he is available on a free transfer after leaving Turkish side Fenerbahce.
Appiah has made no secret of his desire to play in the English Premier League and
has been linked with Arsenal, Blackburn Rovers Portsmouth and West Ham.
Recent media reports suggest that some clubs are reluctant to sign him because of his huge personal terms but the Ghana captain says he is thoroughly considering all the offers before he makes his final decision.
"We are still talking to the clubs involved but the reports that I have high financial demands are not true at all," Appiah told Ghanasoccernet.
"The deals from all the clubs are resonable but the most important thing is that I must consider many factors before I make my choice.
"I have been through a lot in the past one year so when I make a decision I must make sure it is the right decision and that takes time.
"I shouldn't be in a rush to sign deals. I must look at the offers with a critical eye because when I sign for a club I want to stay there for long and build a relationship with the club.
"Money is not everything. Happiness is important for me. I also want to return to action soon."
Appiah fell out with Fenerbahce after a botched knee surgery that took him out of action for nearly ten months.
For more Ghana football news visit www.ghanasoccernet.com