My Time Has Come – Clottey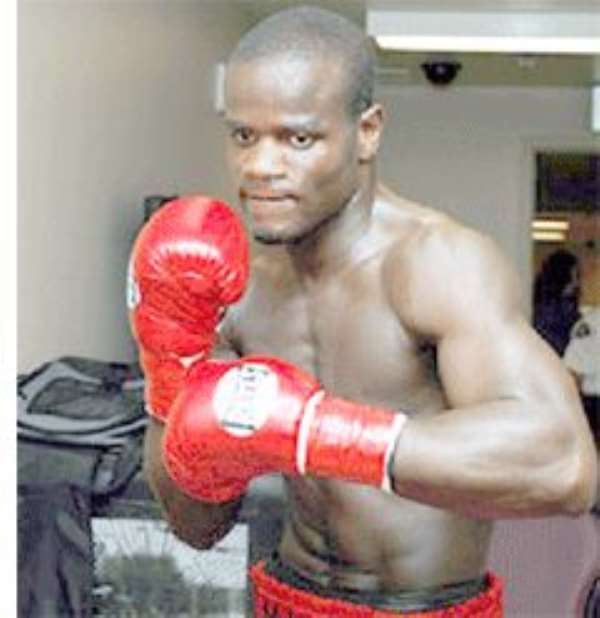 As the chips begin to settle over his title chances, Ghana's Joshua Clottey says the world title cannot elude him any longer.
"This is my time and I can't wait for it. My destiny lies in my hands again," Clottey told the Graphic Sports in Accra.
Now pitted against American Andre Berty for the IBF welterweight belt after title holder Antonio Margarito vacated the title, Clottey says the ultimate cannot elude him for a second time.

The hard-hitting Clottey stopped Mexican Jose Luis Cruz in five rounds in Brooklyn, New York, USA, on April 3, and the feat originally pitted him against Margarito, also a Mexican, for a second time.

Margarito scored a unanimous points victory over Clottey in a WBO welterweight title fight at the Boardwalk Hall in Atlantic City, New Jersey, USA, on December 2, 2006.

"I have been ready for whoever is available and I don't know what will change my focus for the title," Clottey said.
Berty, 24, is unbeaten in more than 20 fights and is currently ranked number two by the IBF.

Despite the American's solid credentials, Clottey said he has been more concerned about his own training regiment than concentrating on matters that would only distract him.

"We are in a boxing game. I respect all boxers but I know what stuff I am made of. My prime focus is to win my fights and that's what I enter the ring to do," the 31-year-old said.

The fight, expected to be staged by Bob Arum's Top Rank Promotions before August, may feature on HBO where boxing's elite appear.

Clottey, 34-2, should have fought Kermit Cintron of Puerto Rico last December for the IBF crown, but Cintron reportedly refused to sign for the bout and chose to fight Margarito who knocked out the Puerto Rican in six rounds also in New Jersey to clinch the title.

Nicknamed 'The Hitman,' Clottey's two losses were the results of setbacks that did not necessarily relate to his performance.

The first was a bizarre event in a fight under the defunct WBF, and the second occurring in New Jersey when he hurt his knuckle and fought with one hand for eight rounds after dominating the first four rounds of his bout with Margarito.

Story by Michael Quaye