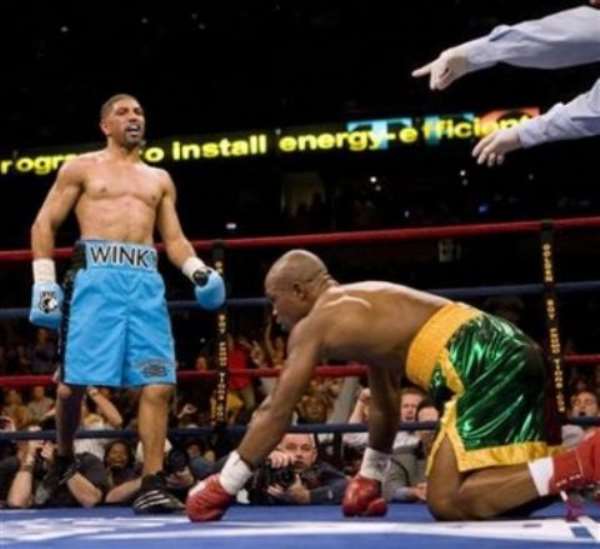 ... Quartey no match for Wright
... Clottey Fails to win title
Ike Quartey and Joshua Clottey were lost their boxing fights last night in the United States. Ike Quartey lost to Winky Wright by a unanimous decision at the St. Pete Times Forum in Tampa, Florida. While, Antonio Margarito of Mexico won a unanimous decision over Joshua Clottey to successfully defend his World Boxing Organization welterweight title at Boardwalk Hall in Atlantic City, N.J.
Quartey no match for Wright
A determined Winky Wright felt he had something to prove.
"They say I can't punch," the former world junior-middleweight champion said Saturday night at Tampa, Fla. "I wanted to show that I can."
One of the best defensive fighters in the business, Wright went on the offensive and knocked down Ike Quartey late in the second round and won the 12-round middleweight fight between two old friends with a unanimous decision.
Wright threw 1,011 punches to Quartey's 642. He was still going strong in the last round, but couldn't finish off his game opponent.
"I dropped him. I hurt him. But he kept coming back," Wright said. "I wish I could have knocked him out, but Ike's a durable guy."
Wright landed a right to the head to drop Quartey with about 20 seconds left in the second round. He rocked his opponent again with a hard left to the head midway through the eighth.
The 35-year-old Wright, a St. Petersburg resident fighting on his home turf for the first time since 1992, improved to 51-3-1 with 25 knockouts.
Quartey (37-4-1) fell to 3-2 since resuming his career in 2005 after taking more than four years off following a pair of disappointing losses in 1999 and 2000.
Friends since the early 1990s when they were young boxers competing in France, Wright and the 37-year-old Quartey had no problem putting their friendship on hold for a night in hopes of positioning themselves for a big-money fight in the near future.
The judges scored the fight 117-110, 117-110 and 117-109.
"He's a good fighter. It was tougher than I thought fighting a southpaw," Quartey said. "He didn't hurt me. I thought I did enough to win the fight."
Both fighters were coming off controversial decisions that left them feeling slighted in their most recent fights.
Wright, who landed 269 punches to Quartey's 174, felt he won a middleweight title bout that ended in a draw with champion Jermain Taylor in June.
Quartey, who quit boxing six years ago after losing consecutive fights to Oscar De La Hoya and Fernando Vargas, dropped a close 10-round decision to Vernon Forrest in August.
Clottey Lose
Against Clottey (30-2), Margarito trailed early but gradually wore down the Ghanaian, who was appearing in his first title fight.
Clottey outboxed Margarito for most of the first four rounds but appeared to injure his left hand in the fifth round, and pointed to the hand as he went to his corner after the bell.
Clottey later said he broke the knuckle on the index finger of his left hand when he landed a jab to Margarito's head in the fourth round. He said he also hurt his right hand in the seventh round, though he did not specify what type of injury it was.
"I thought I was in control of the fight until I hurt my hand," Clottey said.
Margarito did not leave the ring unscathed, and said he injured his right wrist in the sixth round.
Margarito had not fought since knocking out Manuel Gomez in the first round in mid-February in Las Vegas, and he said the layoff hindered him against Clottey.
"The ten months off really didn't help me tonight," he said. "I couldn't get a rhythm going early in the fight."
Judge Eugene Grant scored the fight 118-109 and judges John Stewart and Paul Venti had it 116-112.
Margarito took control in the middle rounds and pummelled Clottey in the eighth and the ninth, cornering him along the ropes in the latter round for a long stretch and landing numerous combinations.
Clottey's answer in the 10th round was to dance away from Margarito for most of the round, a tactic that drew boos from the crowd at Boardwalk Hall.