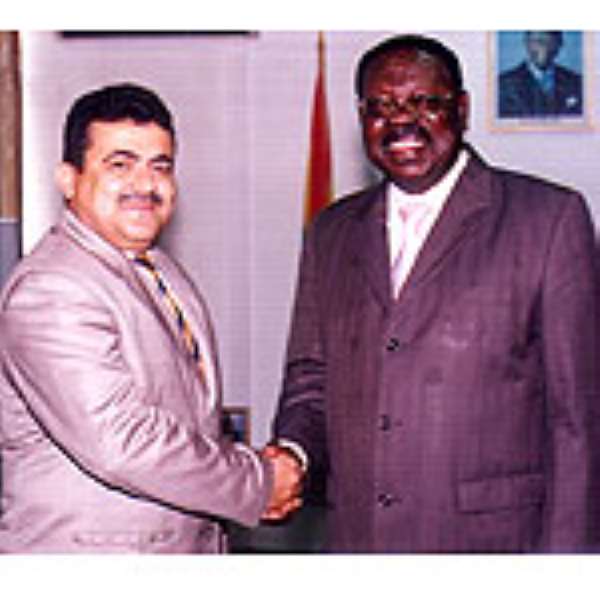 The Palestinian Ambassador to Ghana, His Excellency, Saadi Altumaizi, has announced Palestine's intention to join Ghana celebrate her 50th anniversary which comes off next year.
He said that, "this is a very good opportunity for the people of Palestine and Ghana" because the Palestinians are ready to come and showcase their traditional goods and even invest in the country.
Mr Altumaizi made this known yesterday in Accra when he and the Ambassador of Angola to Ghana paid a courtesy call on the Greater Accra Regional Minister, Hon. Sheikh Ibrahim C. Quaye.
The Ambassador, who has been in the country for barely three months, remarked that this is his first visit paid to the Minister since his arrival in the country and expressed the hope that the good relations accorded his predecessor would also be accorded him and in the process, strengthen the good relations between Ghana and Palestine.
He also assured the Minister that peace and stability would be established in Palestine since they would do all they could to stop the blood shedding in the Gaza Strip.
His Excellency, Jose Guerreiro Alves Primo, Angola's Ambassador to Ghana, praised the work the Minister was doing in ridding Accra of filth, one which has been the major sanitation problem in the capital and said that the powers given to sub metros have really helped the country.
He informed the Minister that Angola has also adopted the same strategy in order to do away with the sanitation problems facing the country recently.
Sheikh I .C. Quaye, the Greater Accra Regional Minister, explained that it was the rapid increase in the capital city population that made the government to adopt strategies in combating the sanitation problem in the country. He thanked the Ambassadors for their visit and promise to reciprocate in the near future.
In another development, the Ghana National Association of Teachers (GNAT) of the Greater Accra Region also paid a brief courtesy call on the Minister to introduce the new executives of the association and lay before him some concerns of the association.
The new executives include Mrs Mary Amankwah, Chairperson; Mrs Joyce Osei Agyekum, Treasurer; Mrs Simpson Kofi Aduamah, Secretary; and the Assistant Secretary, Mr. C. K. Adum-Ntisi Achamfour.