The Rhythm Is Surely Back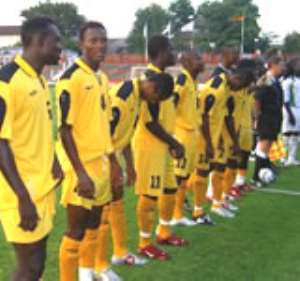 All lingering doubts about the quality of the Black Stars' game in the aftermath of their emphatic 4-1 win against Jamaica last week must have given way to positive appraisal.
After last Sunday's 3-1 drubbing the Stars handed South Korea—the fourth-placed team at Japan/Korea 2000—there can be no doubt that the Black stars have come a very long way from the mediocre stuff that marked their performance at the 2006 Nations Cup and in the earlier friendlies they engaged in.
When the Stars won against the Reggae Boyz of Jamaica, the general reaction was: 'let's wait until after the Korea game before we make any conclusions'.
Now we should be unanimous in our verdict about where the team stands in terms of battle-readiness.
Before last Sunday's game there was so much apprehension in the air about the outcome, given the fact that Germany 2006 is Korea's seventh appearance at the World Cup.
Even more dreadful was the phenomenal speed of the Koreans before which people thought the Stars would crumble.
However, when the moment of decision came the Koreans, who share the 29th position in FIFA ranking with Poland, were no match as their reputation lay in tatters at the end of the day.
In the Stars' last two matches, they exhibited the sweet-flowing stuff that is synanymous with Ghana football.
By this pperformance, the Stars have really set people wondering what went wrong in the matches in which the four-time Africa champions were reduced to minnows.
It can be said with all certainty that the confidence of the Stars is at its highest level since their qualification for the World Cup, and we hope they make the best of it.
With just three days to the commencement of Germany 2006, the Black Stars couldn't have peaked at a better time, and this must surely reflect in our group games.
The result against Korea in particular must give the Stars the added confidence in the opening game against three-time World champions, Italy, on June 12 in Hannover.
With the right mental strength and a good game plan it should be possible for us to repeat the magical showing of Cameroun and Senegal when they defeated reigning champions, Argentina and France, in 1990 and 1998 respectively.
We can only pray that the team spirit that has been the hallmark of the Star's performance in the last three matches will be sustained.