Poll strengthens Cyprus leader's party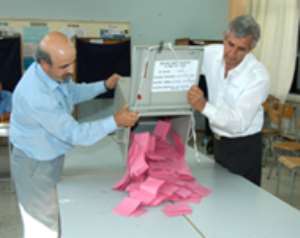 Greek Cypriots boosted the president's centrist DIKO party in Sunday's election for parliamentary seats, according to final results.
The outcome is likely to be seen as an endorsement of the rejection of Tassos Papadopoulos, the president, of a UN peace plan to reunify the war-divided island.
With all votes counted, DIKO had 17.91%, compared with 14.8% in the last election for the country's 56-seat parliament in 2001.
The vote, the first since Greek Cypriots rejected - and Turkish Cypriots backed - a UN peace plan in simultaneous referendums in 2004, affects only the balance of power in parliament. The government - chosen by the president, who is elected on a five-year mandate in a separate ballot - will remain unchanged.
The next presidential election is in 2008.
An increase in parliamentary seats for Papadopoulos' party could affect the course of any new attempt to resolve the island's division. It could also be seen as an endorsement of a government that has threatened to bloc Turkey's efforts to join the European Union, of which Cyprus is a member.
Among the island's two largest parties, communist AKEL - part of the governing coalition with DIKO - won 31.16%, and right-wing DISY, the main opposition party, won 30.33%, the country's election commission said.
Papadopoulos, 72, who was widely blamed by the international community for the Greek Cypriots' rejection of the UN peace plan, said the election provided a boost to his government.
"The government, strengthened by the overall message of the election, will continue its work," Papadopoulos said. "With great satisfaction I must note that voter turnout remains very high - despite a small dip - and is among the highest in Europe."
Voting in Cyprus is compulsory, and those who don't cast ballots face fines of up to 200 Cyprus pounds ($445).
1974 invasion
The island has been split between an internationally recognised Greek Cypriot south and a Turkish Cypriot north since Turkey invaded in 1974 after a failed Athens-backed coup by supporters of union with Greece.
For the first time since the island's independence from Britain in 1960, Turkish Cypriots living in the south were eligible to vote and stand as candidates in Greek Cypriot elections. Only one Turkish-Cypriot candidate ran - Neshe Yashin, with the centrist United Democrats in Nicosia - but she did not win enough votes for a parliamentary seat.
"I wish the best for our country and that one day we will have elections in a united Cyprus," she said after voting. "Turkish Cypriots and Greek Cypriots together, deciding on the future of our country."
DISY leader Nikos Anastasiades said the vote showed that "DISY remains a big and powerful party."
AKEL and DISY focused their campaigns on alienated supporters disgruntled by their respective decisions during the 2004 referendum. AKEL rejected the UN plan, but DISY backed it.